In Market Research reporting, there are a myriad of options when it comes to presenting your results. It might be your tendency to stick to one program, but you may want to consider other options depending on what aspects of the presentation are most important to your audience. We're going to review the three most common programs used in research reporting: Microsoft Powerpoint, Apple's Keynote, and Prezi.
Each program has its own strengths and weaknesses which I've summed up in a comparison chart below. The chart reviews the programs on six attributes, and I will speak briefly to each of them.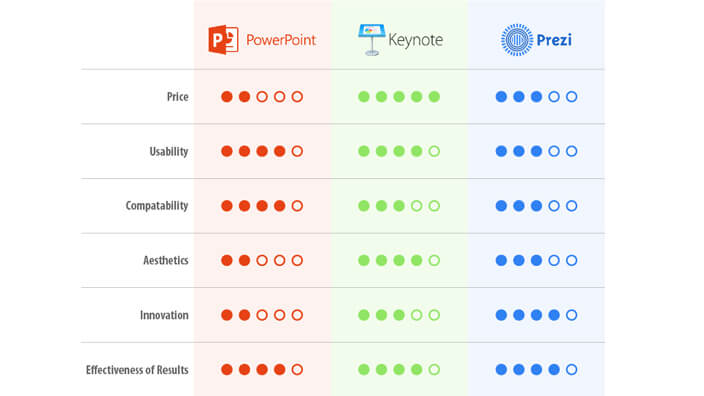 Price:
The clear winner in this category is Keynote. Depending on when you purchased your Apple computer or tablet, Keynote is either free or a mere twenty dollars. Powerpoint carries a somewhat hefty pricetag, but since it has been the standard in presentation programs for years, many people already have the program.
Usability:
Powerpoint and Keynote are both generally quite user-friendly. Prezi has a steeper learning curve. Training is available to Prezi users, but only with the most expensive paid option.
Compatibility:
Mac/PC compatibility can be important in a world where Apple is becoming the personal computing choice of many. There are both Mac and PC versions of Powerpoint, and documents can be moved from one platform to another seamlessly. A benefit, (or downside—depending on your circumstances), of Prezi is that the free version is web-based, and can be used by any PC or tablet with an internet connection.
Aesthetics:
While all three programs come with pre-made templates, those of Powerpoint look outdated. Keynote has put in a greater effort to allow for the user to create a presentation with a more modern, sleek design. The design of Prezi's templates are impressive, but they don't allow for modification.
Innovation:
By leaving behind the linear slide method, Prezi has really broken the mold. However, it can be all- too-easy to overuse the "zoom" and "pan" functions Prezi offers, which can leave the viewer feeling dizzy!
Effectiveness of Results:
Chances are, your client is very comfortable with Powerpoint. It has the capabilities to create an impactful presentation. If visuals are most important to you, you might want to choose Keynote to create a more visually stimulating presentation. Prezi is new and exciting, and comes with lots of bells and whistles. If your presentation is short and not too data heavy, Prezi may be the way to go.