We are big fans of Chip and Dan Heath, as you may be able to tell from our review of their first book, Made to Stick. So we naturally scooped up Switch and decided to give it a read. Switch focuses on how some people, organizations, companies, and cultures are able to successfully change, but also how difficult it can be to implement change. The authors summarize the goal of the book nicely with the phrase "how to change things when change is hard".  Given that we spend about 110% of our time working with brands who are looking to change some aspect of human behavior, we figured this book was a perfect way to spend some free time.
In Switch, the Heath brothers propose that behavior is driven by three key factors; the logical/rational mind, emotions, and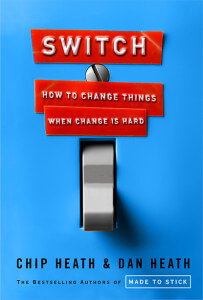 environment. To bring these concepts to life, the Heath brothers borrow an analogy from Jonathan Haidt's book The Happiness Hypothesis. In this analogy, our emotions are envisioned as an elephant, our logical/rational mind is the rider, and the environment is the path the elephant is riding on. Because the rider is so much smaller than the elephant, he can't overpower him, and his control is somewhat perilous. They use weight loss as a simple illustration of this premise, the rider may know that the healthiest thing would be to skip cookies and focus on veggies, but the elephant loves cookies and often wins, especially in moments when the rider gets tired. Finding strategies that can align elephant and rider is key to creating successful change.
Switch is primarily comprised of three sections, each focused on three pillars the brothers advocate to create change; "Direct the Rider," "Motivate the Elephant," and "Shape the Path." Each section gives lots of examples and they do a great job of telling memorable stories that illustrate the importance of each pillar. They also summarize 3 to 4 ideas in each section that pertain to the main pillar and help guide the reader. For example, one the key ideas they suggest in terms of "Directing the Rider" is to "Find the Bright Spots" which is simply to find situations in which the desired behavior is being achieved and see if there are learnings from those bright spots that can be replicated.
Anyone who works with people, especially those focusing on changing behavior, knows that sometimes it can be maddening to understand why people don't make changes that should be obvious. One of the great things about this book is that it tackles change from a number of perspectives. They discuss individual change, such as weight loss. Changes that smaller groups of people such as managers or teachers might encounter. And large scale change that politicians, regulators, and marketers might be focusing on. The Heath brothers do a great job of highlighting some of the reasons that even the simplest of changes can be difficult to implement. One of the reasons we focus so much on creative research and storytelling, is that we know how important it is to not just appeal to the rational side of decision makers, but also to make sure they are engaged and motivated to act (We aren't kidding, we really focus on it, like alot, really, for real).
We suggest giving the book a read. Let us know what you think.