Welcome to my recap of Day 2 of the OmniShopper Conference!
Continuing from the solid themes built on Day 1 of the OmniShopper Conference, we opened Day 2 of the OmniShopper conference with the dynamic duo of Erica Orange and Jared Weiner from The Future Hunters. They gave us 3 highlights from Day 1:
Todd Henry told us to "leave nothing on the table"
Gen Z characteristics are vastly different than other generations
Robots are potential buyers however it is a more complicated ecosystem to embrace
Now let's get onto the theme for Day 2's keynote speakers and session breakouts.
Click each topic below to expand and read more:
The big special treat for everyone was a discussion with Daniel Kahneman, the winner of the 2002 Nobel Memorial Prize in Economic Sciences and famed author of "Thinking, Fast and Slow".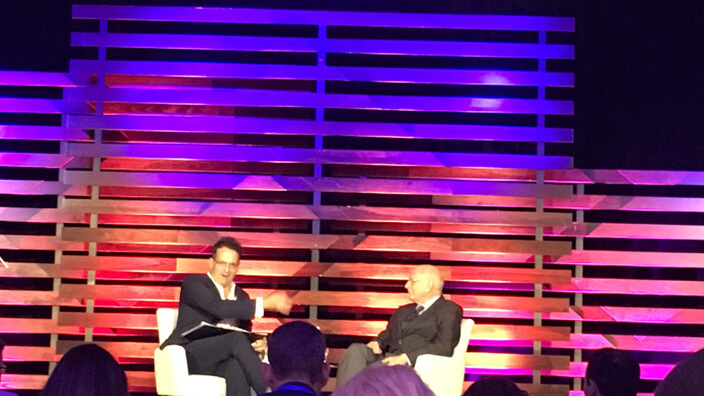 This was a 45 minute interview conducted by Anthony Gell from Informa and founder of LeadersIn. The interview ended with Q&A from the captive audience. Mr. Kahneman discussed his journey through life including a dark period of his life during the war in France. Mr. Gell asked if this was a foundation for his work and Mr Kahneman stated that "everyone is formed by their childhood, but didn't believe this time period shaped him".
The discussion turned to an overview of System 1 and System 2 from his book "Thinking, Fast and Slow". Our memories deliver the fast thoughts while the slow thinking is the reasoning and sequential thinking based off of our experiences. System 2 thinks it's in charge however System 1 is always whispering to System 2 and is really in charge. If we go back to a topic on Day 1 around gut feelings, this is where intuition is a part of System 1.
Mr. Kahneman continued with the topic of confidence. Confidence is something you feel; you can't necessarily trust other people just because they are confident, it's not a guarantee of accuracy. So what gives us the impression of leadership? We have an image of leadership that is biased.
Before we get into the Q&A section of the discussion, Mr. Gell asked Mr. Kahneman what books he would recommend to read about the future. I waited anxiously as he is like Oprah for the research world. Mr. Kahneman recommended Sapiens by Yuval Noah Harari.
Now on to the Q&A section of the discussion:
"What can organizations do besides recommending C-Suites to read your book?"
Mr. Kahneman answered that organizations should understand how to run meetings that are efficient with prepared people. When people are prepared there is more independent thinking which is healthy. Group thinking can come to a conclusion faster when an organization needs to delay intuition until all the info is there to make a decision about. Must look at problems independently.
What else?
An organization has to embrace its past history and understand how it has evolved… but most organizations don't think of design as a process. Finally if an organization thinks about how to do something, they then need to just do it.
Next up was a panel discussion with John Whitaker, VP Market & Consumer Insights from Lowe's, Sumaiya Balbale, VP Marketing at Jet.com, and Emily Shannon from Mall of America. This trio covered topics concerning the Future of Retail. Gary Schanzer from GfK, guided us through a discussion that ranged from the omnichannel experience, how the retail store is still an important part of the shopping process and changing behaviors.

Seamless Experience is the Key to Engagement
John discussed how it's important for retailers to create this seamless omnichannel experience for the customer. For the Lowe's shopper, the experience starts online and it's more about possibilities, inspiration as well as a transactional process. It's a digital first strategy for this retailer. While digital may be the source for inspiration, the retail store has a pivotal role as a source of information for shoppers who can engage with experts in-store. Brick & Mortar is a supplement to digital. Further he discussed how Lowe's also engages with customers through in-home services and the domestic based call center. John stated that "there are 4 different unique touchpoints in bringing together the omnichannel experience" which include brick & mortar, online, in-home and domestic call center.
Sumaiya Balbale, from Jet.com discussed evolving consumer behaviors and how important it is to keep a pulse on how people are entering their website. She continued by talking about how traditional grocery purchases are shifting to online and the need to understand what offline behaviors are shifting as well as how behaviors exist across platforms.
We learned a lot from Emily Shannon already in my coverage of Day 1. Once again she shared with us how #MallofAmerica is creating an experience for customers including
helping them locate a retailer with "way finding"
developing smart parking solutions for in-store pickup
and using social media to interact with customers
Everyone talks about Millennials, but they are the Customer of the Future
We all hear every day about how important Millennials are to retail, but we have to embrace that this is truly a demographic that everyone needs to understand, target and get them to spend their $'s.
So what is Lowe's, Mall of America and Jet.com doing to capture this cohort?
John stated that this is the customer of the future especially since they are starting to get into homes and building families. We have to understand that we can't lump them into other demographic groups as they are diverse, live in more urban areas and are very much conscious about their brands.
So how does this affect brands? Their behaviors and lifestyles affect stores drastically from the format, assortment needs, online presence and logistics for retailers.
Jet.com is targeting Older Millennials as the sweet spot for their business model. Since they are highly value influenced shoppers, there is a need for a separate strategy for these shoppers. In addition, these shoppers are looking to brands to be authentic, socially conscious and can smell out what is real or not.
Emily delved into how MOA is shifting towards developing a targeted content strategy that includes a mobile presence and this cohort expects mobile engagement.
Lots more from this panel that I can write about, but here are some key takeaways:
Tap more into your System 1 thinking, include EEG and eye tracking into your research workstreams.
Don't isolate departments as insights come from everywhere
Make better decisions by looking at the deeper level of data to drive insights
Identify partnership opportunities, be creative because you never know what will explode
Don't be afraid to leverage new research approaches such as geolocational, mobile and neuroscience, you might uncover a niche opportunity
The last Keynote Speaker of the Day was Kirk Olson, VP Trends Insights @HorizonMedia.  Kirk covered how retail has a Bi-Directional Future and how there is an overlap with brands to understand trends to connect the dots.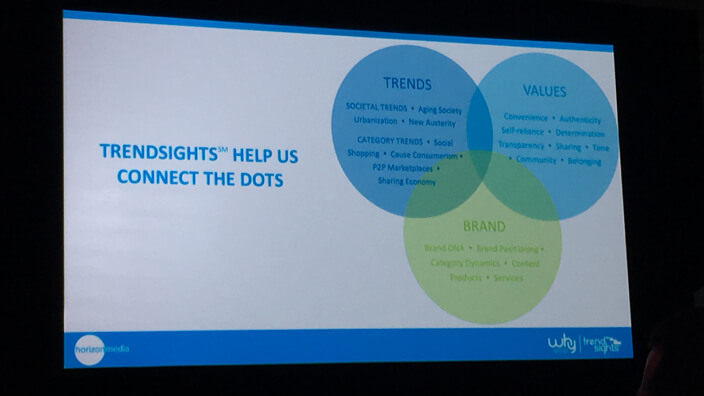 What is Bi-Directional? It's when you want hi-tech but not all of the time.
What does this mean for shoppers?  They want:
Immediacy and they want it to fit into their busy life, yet want an authentic experience
Personal service but want both technical and personal
To go back in time through retrofitting products and experiences
Find their perfect match through discovery such as meal kits or operational showrooms
A brand to tell them a story
Kirk ended with a few snippets that are highly relevant to the audience of the conference, "People are the constant variable and the future belongs to people not technology".  He continued by stressing that brands don't have to tap into all the trends; find your north star.
And now onto Tuesday's breakout sessions whose topics include storytelling with data, developing intimate connections with millennials and how to collaborate in a changing retailer environment.
As we progressed into the afternoon, I was looking forward to hearing more about how I can turn massive amounts of data into a story.  Celeste Ireland from Maple Leaf Foods based in Canada, was able to provide some great insights to better leverage data:
The audience is the most important thing
Leverage a framework such as the one she showcased to the crowd
Develop an elevator story (K.I.S.S as many of you know)
Create emotional content, if people feel involved they will be involved
Highlight the one thing that is easy to remember
Help the audience see it clearly through visuals, not a massive data dump of excel files
Don't forget the CTA with recommendations
As we all know the term "actionable insights" and probably overuse it, Celeste was spot-on in stating that it is even more critical in today's ever changing and real-time environment.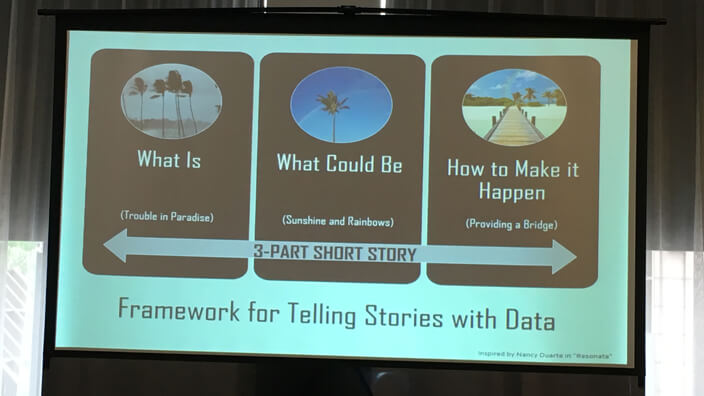 However, I feel like the key takeaway she stressed (and I agree with) is to let your audience or key stakeholders know what is at stake. If there is tension involved, key decision makers will be more apt to act once they know how it can affect the company.
Next up on the agenda was Sean Smith, SVP Strategy at Seed Strategy and Julie Cudmore, Consumer Insights Manager at Welch's. Julie was first up to share with us on how Welch's devised a plan to emotionally connect with Millennials.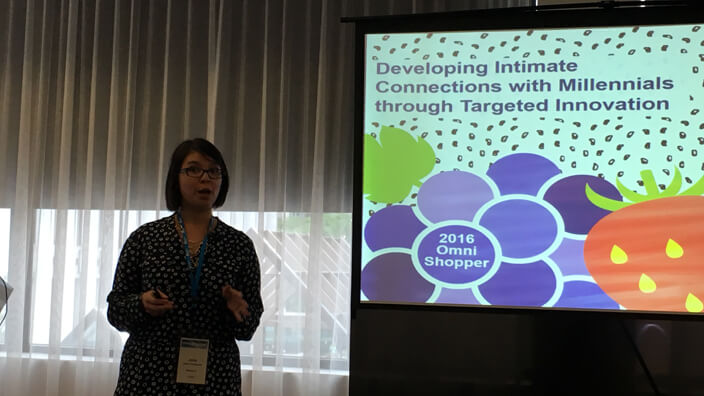 She took us through uncovering if Welch's had permission to innovate within the fruit spread category among the millennial demographic. They identified this category as a "whitespace" opportunity due to the fact that this demographic didn't overindex in the category because of its' current state of not meeting their needs.
Based off of Julie and Sean informed the audience, here are the key steps in developing a relationship with this cohort:
First up, look at the competitive landscape and validate the opportunity
Uncover other trends within the aisle, adjacent categories
Find inspiration in other areas by going to other sources for information like YouTube, Pinterest, etc.
Look at needs and benefits that the demographic is looking for; especially online where they live
Develop guiding principals so as not to alienate other demographics
Be nimble yet take an iterative approach
Finally, take a visual approach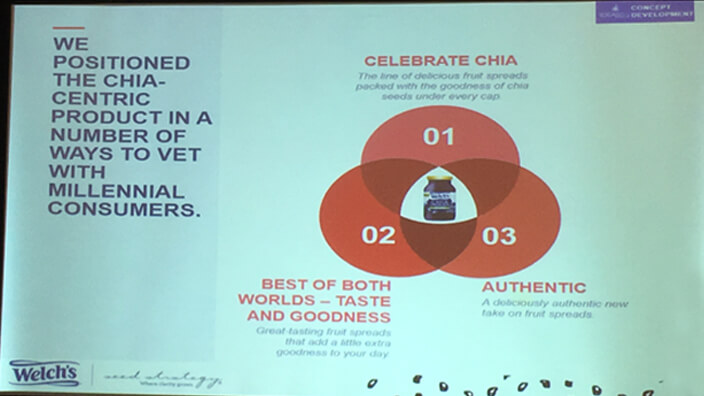 With this approach, they were able to create a new product launch of Chia Fruit Spreads in 7 months! We all know that is amazing when it typically takes 18-24 months to launch a product to shelf.
This last session was brought to us by the folks from Wrigley: Tiffany Menyhart and Dennis Hull who are experienced Category and Insights professionals in the CPG world.
The team showcased their shopper solution process that aided in driving impulse sales at the checkout area. Don't we all feel like we are at an emotional low at the checkout? Through uncovering how shopper needs have changed as well as their behavior in store, the team was able to make it a more rewarding experience. Through leveraging more robust data sources, they were able to provide retailers with a more holistic and forward thinking approach to understand shopper needs states ultimately driving dollar growth.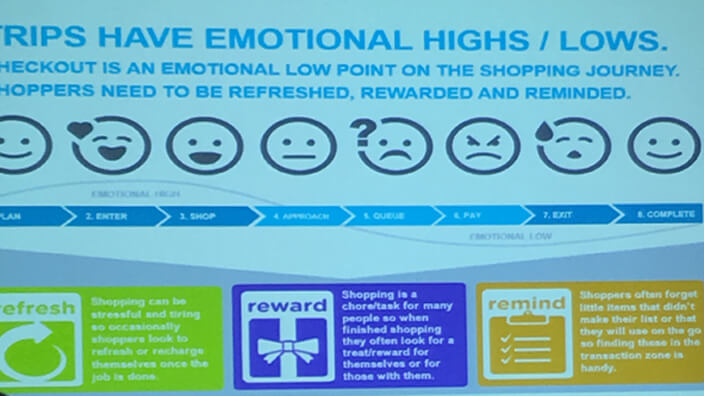 In addition to taking us through the emotional journey shoppers experience, the team also showcased examples that highlighted the fact that retail environments:
Must evolve
Companies must partner to succeed
The shopper is #1
Must incorporate a mindset of "Test and Learn and Adapt"
Kudos to another extensive OmniShopper conference that highlighted new trends in technology, shifts in behavior among demographics plus best conventions for leveraging new practices and ideation.