Last week I attended the OmniShopper conference held at the Radisson Blu in Chicago, Il. This annual event promised to inspire, engage and transform brands into the future of retailing. After attending two of the three days, a multitude of sessions, keynote speakers and networking opportunities, here are my key takeways.
What has changed in the world of retail over the past year?
The Future Hunters of Erica Orange and Jared Weiner set up the stage for the day by discussing how in the last year things have drastically changed from a consumer, shopping and behavioral perspective in the world of retail.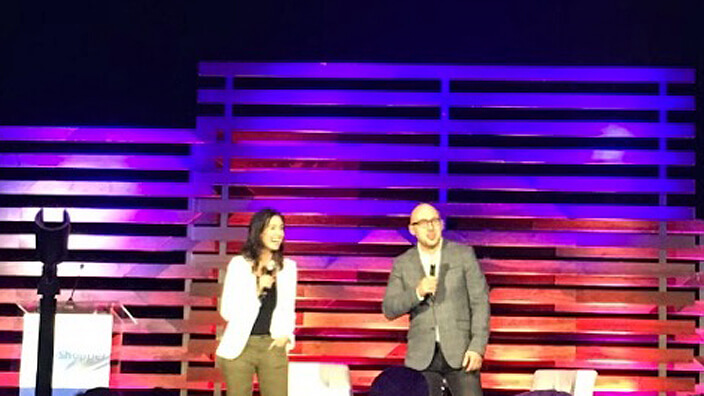 Jared went on to bring up several new trends; templosion, the need for rapid iterations, generational compression and cybrids. No not cyborgs from the movie Terminator but this is the new term for Gen Z.
What is templosion you ask?
That is about being obsolete in 12-24 months rather than the typical 3-5 years that it takes for trends to emerge.
What does this mean for brands?
Warp Speed
This has resulted in the need for brands to focus on rapid iterations and abbreviated product development lifecycles. Brands need to have an organizational shift to be able to innovate in warp-speed, be nimble and predictive rather than reactive.
Recalibration
Next up, Erica shared how we are becoming a shared economy and have shifted towards the need for optimization of goods. She questioned the audience "How can you recalibrate?"
Since the retail environment is evolving into a more personalized and customized world, how do brands switch their thinking, their usage of data and develop narratives rather than data dumps.
Augmented Reality
Finally, the last trend that the duo discussed was how tech is transforming into an augmented reality world which is moving into the real world through overlaying sensorial experiences.
Keynote Topic #1: Combine Guts & Data to Drive Return on Relationships with your Shoppers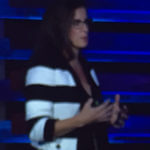 In our 1st keynote speaker of the day, Jessica Hendrix from Saatchi & Saatchi dove into how "no matter how much data we have, we will always have feelings and emotions". This is where we dive into how brands need to make the transition from only relying on guts or data to integrating the two. By merging the two instead of each in a silo will create a positive "return on relationships" with shoppers.
What is the key thing I heard from Jessica's keynote that brands can leverage? By pulling the left brain and right brain together, this will create a balance between big data and your gut intuition. How can brands do this? Jessica went on to describe how by not only motivating your emotions to understand the why, you can utilize the data to connect dots to shoppers.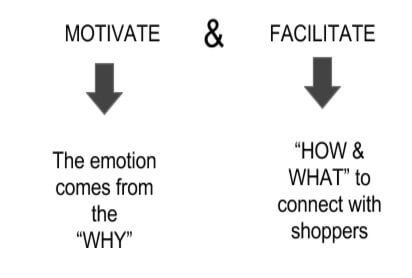 Keynote Topic #2: Brands Need to Develop Their Voice
Next up on the keynote speaker agenda for the day was Todd Henry, author of "Louder than Words" and founder of Accidental Creative.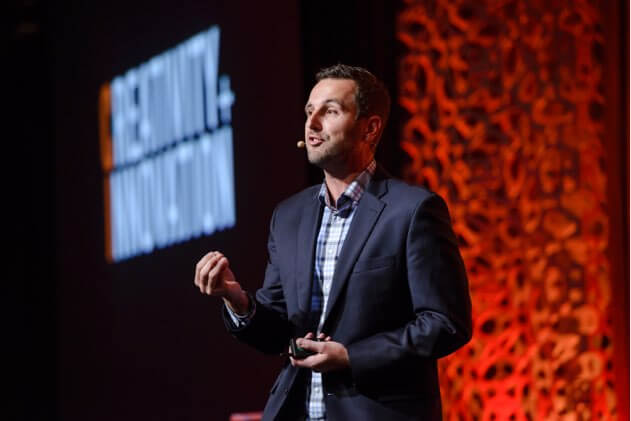 Image sourced from ToddHenry.com
Todd asked the audience how do we understand our voice? He goes on further to state that many of us have brilliant ideas, but when we encounter resistance to those ideas we lose our courage. Brands need to take their great ideas and market them by developing our voice.
There are 3 main components on developing your voice:
Develop your identity and what people see you as
Develop your vision and the impact of it
Mastery, what's the platform to bring your idea into the world?
But first, let's look at why we fail at developing our voice.
We have paralysis due to fear
We have false and limiting narratives
We have a defaulting inertia which is composed of several components (you'll have to read the book or attend one of his speeches)
So how do brands develop their voice? How can you as a marketer, researcher or leader carry develop your voice?
1) First, write a manifesto, what do you stand for? What does your team stand for?
Ask yourself these questions:
What angers us and what makes you feel like something needs to be done?
What makes you cry and you feel emotionally connected?
What are you obsessed about?
When are you uniquely great?
2) Then think about the core elements of developing your voice, identity, vision and mastery.
I can go on and write an entire article on his keynote speech, as he had my undivided attention during his whole presentation, however, I would just recommend listening to his podcasts and read his new book.
He left us with this thought:
"Develop your voice, don't chase someone else's".
Keynote Topic #3: Using Technology to Create Memorable Experiences
The final keynote speaker of the morning was Emily Shannon, Director of Digital from Mall of America. I was quite intrigued to seewhat she would be speaking about, it's just a big mall right? Well, I was quite surprised to be overly educated and inspired around how this mall is transforming the retail space with emerging technologies.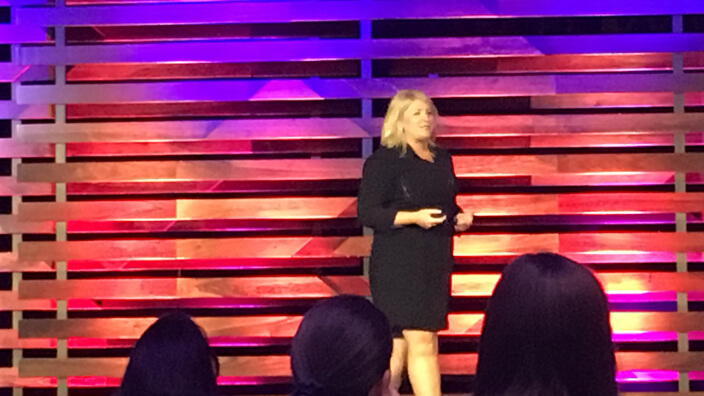 With 40 million visitors per year and 60% of visitors from right here in the US, that's a lot of shoppers to understand their key touchpoints along their visit. So what is #mallofamerica doing to make this retail environment a technical immersive experience for the shopper?
First of all, they are embracing technology to create memorable experiences. By creating an enhanced service portal (ESP is their acronym), they were able to develop a hybrid communication hub to monitor social, digital and traditional guest services including a text messaging service to alert housekeeping about issues in the restrooms! In addition, through geo-fencing, they can see conversations about brands and provide meaningful recommendations.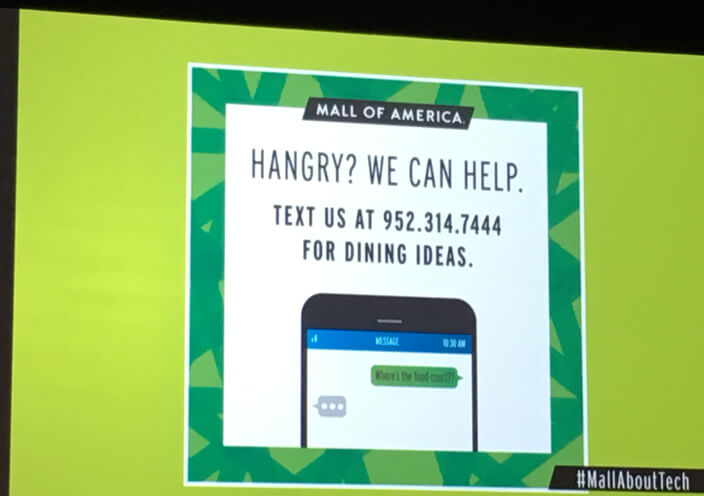 A new endeavour for Mall of America is the launch of text messaging services. Shoppers can text a unique number for not only dining recommendations but also other recommendations. One example shared with us is how a shopper sent a text asking about the best ice cream place, continue the conversation with the shopper to find out that they wanted gelato and the customer service team was able to point them to a gelato store within the mall and recommend the pistachio flavor.
Emily then shared with us the most amazing use of social media to drive consumer engagement, inspiration and positive sentiment. They created a "twizzard" event which was tied to each time that someone tweeted "twizzard", snow would start to fall inside the mall. This event drove a top 10 mention for black Friday on Twitter, a 2015 Webby Award and appeared within 43M individual timelines.
This is an example of the perfect blend of both digital and physical which Emily called "phygital". I'm adding that to my shopper vocabulary.
Using Virtual Reality to Wow Consumers
Lastly, she spoke about the future of Virtual Reality and the operational challenges with that. What should they do with this new technology? Where is the best application? What did she do? They met with the tourism team and developed a brand new approach to a sales pitch besides the boring powerpoint slides. The team created a 3 ½ minute virtual reality experience inside the mall to make it much more of a magical experience including a ride in the ferris wheel, dining one of the restaurants and see the entirety of the theme park.
Emily's Key Takeaways:
You need to have customer participation, how does your digital plan inspire? Is it a two-way conversation with the shopper? How can you develop more geniue and authentic relationships?
Test and Learn. We hear this a lot but not a lot of brands still buy into this idea. If Mall of America can build out a process within the organization to test beacons (make them invisible to the shopper), to test "twizzard" and learn from these events, so can your organization
Hire curious people who embrace change.
Keep on top of visionary changes in tech. Beacons. Augmented Reality. AI. Robotics
To recap, Emily stated "to not be distracted by tech because it all comes back to the experience for the shopper".
The afternoon was filled with breakout sessions on various topics ranging from data-driven insights, total store activation, shopper best practices and storytelling.
Breakout Session #1: Brands Need to Go to Where Their Targets Live
Top highlights from Justin Wheeler's discussion on The Future of Market Research in a Connected World:
Marketers have not yet adapted their marketing efforts to Gen Z. Their behavior is vastly different than Gen X especially when it comes to debt, purchasing habits, social media and digital.
41% of Gen Z have never personally purchased anything at a shopping mall
Gen Z doesn't use Facebook as much as Snapchat and YouTube. YouTube is where they are going for news.
54% of Gen Z start their search for news on YouTube = Video
The #1 sticky element is video among this cohort with about half have live streamed
Only 3% of Gen Z have email, which means that email marketing may become less impactful, however, this generation is open to push notifications and proximity based ads.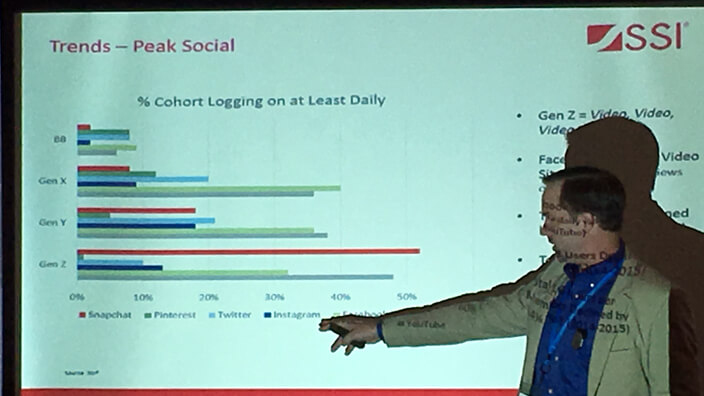 What I take away from Justin's session is that brands have to go to where their target lives. If it's Gen Z then go to YouTube, Snapchat and similar spaces. If they don't have email, then rely on their heavy mobile presence, utilizing mobile techniques to understand this cohort is imperative.
Breakout Session #2: Leveraging Data to Understand Your Consumer
Next session for me was around the topic of leveraging Omnichannel Data for Growth with presenters from InfoScout (Prabhath Nanisetty) and Red Bull (Laura-Lynn Freck).
Red Bull is a product that is sold across multiple channels, with heavy quick trip purchasing behavior through convenience stores and 75% of sales outside normal channels. This lends to missed trips not captured on panel data- Laura highlighted an example of if you look at typical panel data you would see a shopper makes 4 trips in 1 week for Red Bull. But instead if you look at receipt data such as InfoScout, you actually have 7 trips in 1 week with varying purchase times throughout the day. By leveraging this data, the Red Bull shopper insights team was able to uncover a true picture of the shopper and build a story. These new insights led to an innovation strategy for 7-Eleven with unique flavor offerings for the convenience shopper.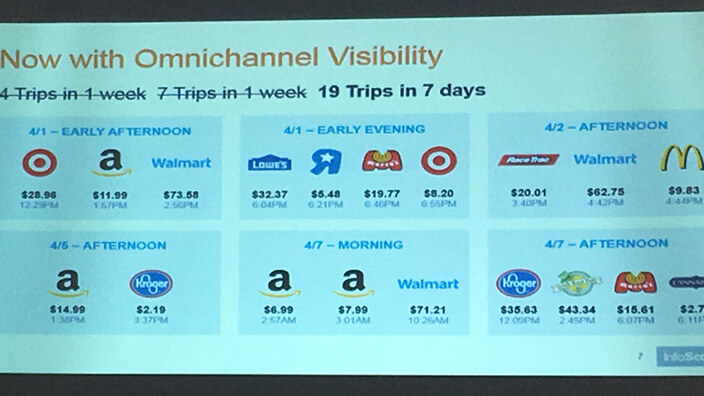 Through leveraging this unique omnichannel data source, brands can capture an early read on innovation items, develop new item trackers to understand performance across channels as well as lead to increased credibility with your non-traditional retailers.
Breakout Session #3: How to Create Impact through Iterative, Participatory Shopper Insights
The final breakout session of the day was lead by the duo of Fern Grant from The Strategy Shop and Patty Bilka from the gaming company Ubisoft. Their topic of the day was how to Create Impact through Iterative, Participatory Shopper Insights. As a former Shopper Insights professional, I was all ears to learn how they created impactful insights within an organization.
Patty first discussed how good research is always tough to do and some research workstreams take much longer and once the research is finished it's no longer relevant. Especially true in the gaming and entertainment industry, much can change in 9 months.
She goes on to discuss how priorities can change, key stakeholders can move on from the topic and excitement in general can wane.
So how do you find the insights that matter and want as well as the answers you can act on in a timely manner?
Before the team addressed this topic, Fern helped the group understand what can and does get into the way of meaningful research:
Lots of data and it sits in different silos (groups)
Different stakeholders like different data
Love to talk research and talk and talk and talk
External vendors don't know the insides of the company and how it operates
Stakeholders within the company that don't value research
So what can researchers and brands do to break down the walls?
Map out a learning plan
Develop the participatory process
Involve key stakeholders in pre-research including a hypothesis work session
Invite retailers to participate
Co-create strategies based on insights
Share learnings early, what they mean to the organization and how they impact the next phases of research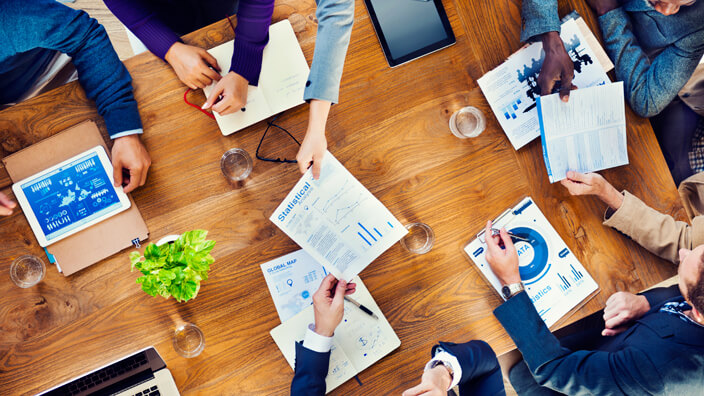 What did Ubisoft learn from this process?
Patty took us through how she was able to transform research from low on the importance spectrum to becoming more influential with key stakeholders, more participation from retailers and being able to develop more effective marketing initiatives.
It's hard to get everyone in the room but it's imperative that all key stakeholders have input
Retailers want to hear from their shoppers, the good the bad and the ugly. Maybe don't have the retailers participate on the first day so that you can understand what themes maybe be emerging and be prepared for any negativity
Other teams want insights but may not be able to handle a full blown out presentation, give out small doses and focus on the top 5 findings
What did Fern learn as a consultant that worked for this participatory process? Hypothesis sessions are critical to uncover any biases, legacy knowledge and uncover potential ideas. Leveraging visuals always helps out, turn that data into charts, pictures or snapshots. Finally use the ever trustworthy framework of WHAT→SO WHAT→WHAT NEXT
That's a wrap on the synopsis of Day 1 from the OmniShopper Conference.