I used to work in professional services as an internal consultant to support campus recruiting teams and their recruiting leaders. After three years of being in the trenches with a dozen teams across the country, it became abundantly clear who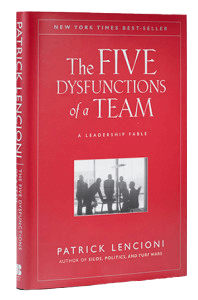 were the high performing teams versus those embroiled in complete dysfunction. Not surprisingly the high performing teams had minimal attrition, accomplished remarkable results, and were unwavering in support of their leader. What was the secret sauce that made them so cohesive?
I found my answer while on a team where "teamwork" was lost in rhetoric. On a dusty bookshelf in the break room, I came across The 5 Dysfunctions of a Team by author Patrick Lencioni. It's a short and simple read but a powerful story on team dynamics. Fabling a fictitious technology company who has just hired a new CEO, the author gives us a lesson on the five dysfunctions of a team. The CEO takes her executive team on a retreat determined to get them communicating with each other about these dysfunctions. If she and the team do not course-correct, the company will never reach their maximum potential; morale suffers, good people quit, people lose their jobs, the company goes out of business, etc.
Conversely, Lencioni asserts:
"If you could get all the people in an organization rowing in the same direction, you could dominate any industry, in any market, against any competition, at any time."
Lencioni's book illustrates the root causes for why teams fail and succinctly offers these five dysfunctions:
Absence of trust…unwilling to be vulnerable within the group.
Fear of conflict…seeking artificial harmony over constructive passionate debate.
Lack of commitment…feigning buy-in for group decisions creates ambiguity throughout the organization.
Avoidance of accountability…avoiding calling out peers on counterproductive behavior which sets low standards.
Inattention to results focusing on ego, personal success, and status before team success.
In the absence of dysfunctions, you have a cohesive team. Here is what a synchronized team, rowing in the same direction, should feel like:
They trust one another.
They engage in unfiltered conflict around ideas.
They commit to decisions and plans of action.
They hold one another accountable for delivering against those plans.
They focus on the achievement of collective results.
Taking Five Dysfunctions a step further, Lencioni wrote a how-to book with practical exercises as an aid in overcoming dysfunctional behavior. In some respects you can dive right into the exercises in Overcoming the Five Dysfunctions of a Team, without having read Five Dysfunctions but if you are keenly interested in dynamics teams and leaders, I highly suggest both reads as a one-two punch.