The Covid pandemic has had a dramatic effect on American's 2021 resolutions. For one, it seems to have dampened Americans' enthusiasm for New Year's resolutions, despite how much many of us have been looking forward to 2021. And for those who did make resolutions, Covid inspired most of the resolutions they made, in part if not in full. Read on for more about New Year's resolutions in the time of Covid.
31% of Americans aged 13 and up made a resolution this year. 52% reported making resolutions last year (2020), and we know from our own data that 62% made resolutions in 2019, so resolution-making is down by a good margin from more "normal" years.
Resolutions are more common among younger adults aged 18-34, peaking among those aged 25-34.
Among those aged 18-34 who didn't make a resolution, 18% reported that they didn't make a resolution this year because the pandemic has restricted access to the things they'd need to carry out a resolution, significantly more than other age groups.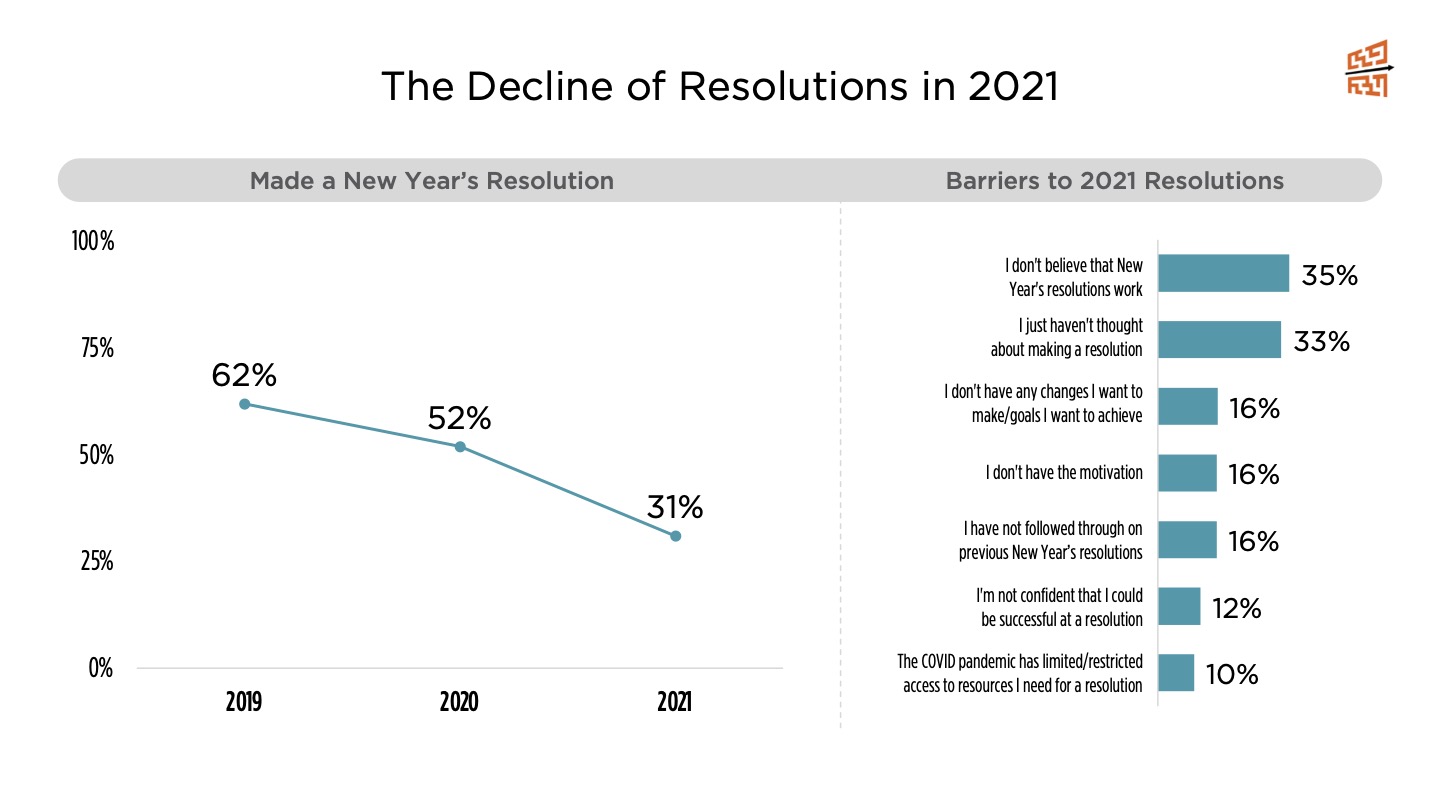 State of Our Health via Murphy Research
70% of resolution-makers only make 1 or 2 resolutions, and they usually plan them well in advance; two-thirds of resolution-makers start thinking about them 2 weeks or more in advance.
Those who made resolutions this year are more likely than non-makers to report that their lives are still quite different from their pre-Covid "normal," but they are also more optimistic about when they'll return to normalcy.
Two-thirds of all resolutions Americans made in 2021 were somewhat or completely inspired by Covid, with one-third completely inspired by Covid.
Resolution-makers tend to be optimistic in general, and this includes a more optimistic view of when their lives will be close to normal, with the majority expecting this to happen by the summer. Non-makers, in contrast, see a longer recovery period from Covid, with almost a quarter not expecting "normal life" to resume until spring 2022 or later.
The combination of living a life more altered by Covid and more hope for an earlier end to the pandemic is probably a big contributor to making resolutions this year. As vaccines make more "normal" life possible again, it's likely we'll see something like a mini-New Year somewhere mid-way through 2021.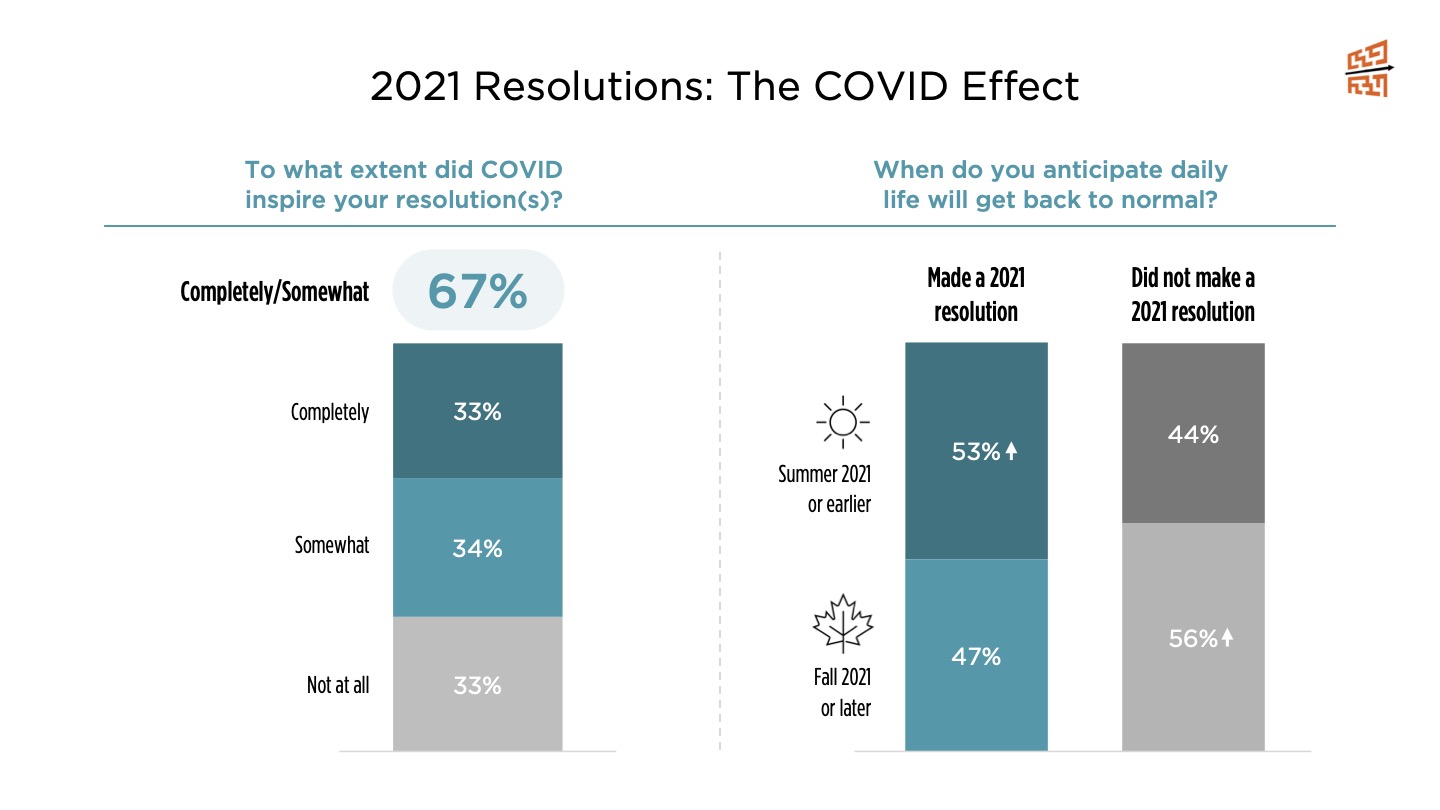 State of Our Health via Murphy Research
While resolutions related to diet/nutrition and fitness remain very popular, this year improving mental and emotional health has surged in importance.
Weight loss remains the single most common New Year's resolution.
However, diet/nutrition and fitness resolutions have declined in popularity a bit, suggesting that Americans may be re-assessing their priorities after a rough year.

In 2019, 36% of resolution-makers made goals related to diet/nutrition and 35% to fitness. In 2021, only 32% made resolutions related to diet/nutrition and 29% to physical fitness, including improving physical health, fitness, or athletic ability.
Conversely, this year, 30% of resolution-makers made resolutions related to mental health, compared to only 24% in 2019, such as improving mental health, managing/reducing stress and anxiety, making time for spirituality, or showing more gratitude.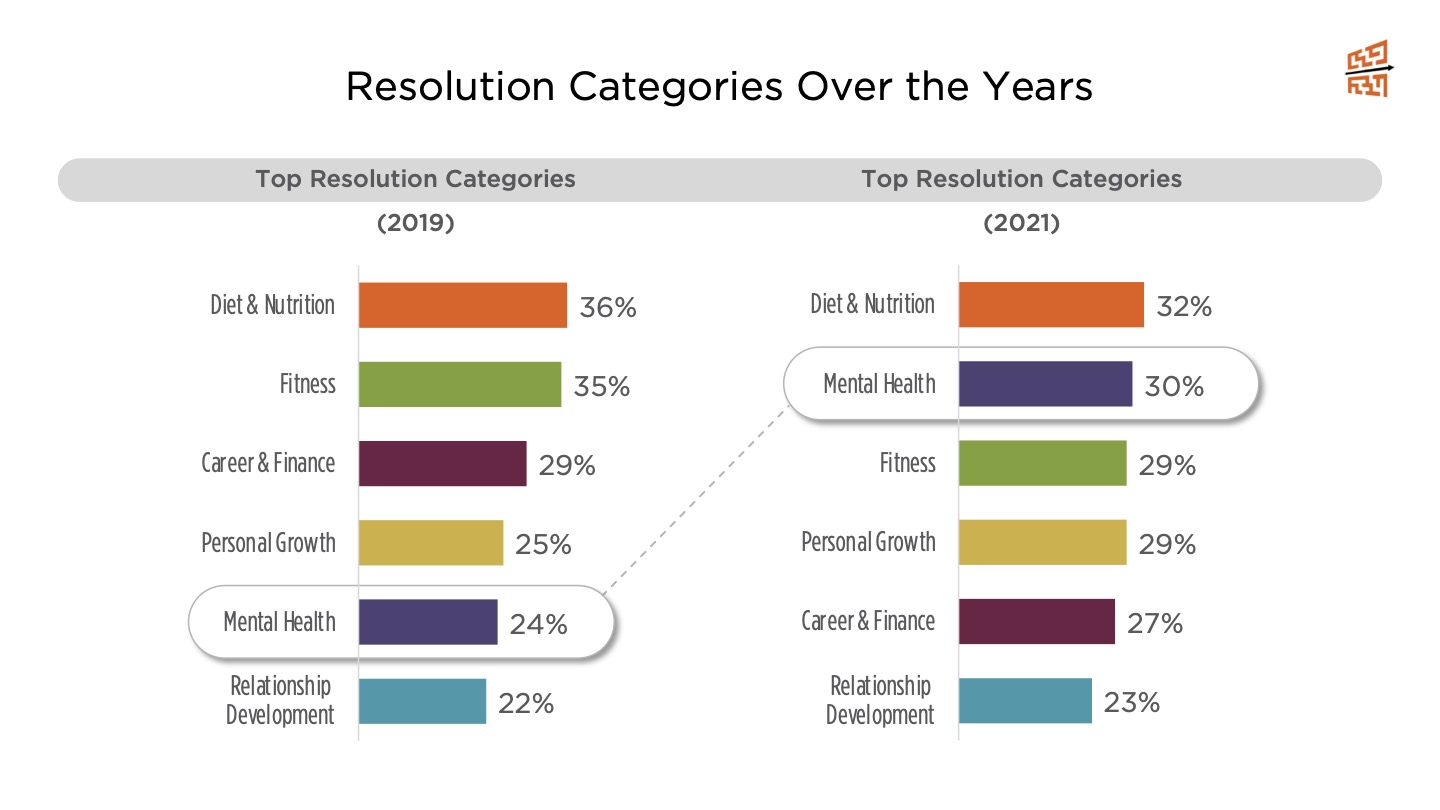 State of Our Health via Murphy Research
As in previous years, men tend to be more confident in their success than women, and perhaps with good reason. While most resolution-makers have some type of accountability plan in place for their resolutions, women are significantly more likely than men to say they have no plan.
Men's resolutions focus on achieving financial success, managing/losing weight, managing physical health, and improving physical fitness, in that order.
Women's resolutions focus more heavily on eating and weight – their top resolutions areas are managing/losing weight, improving diet, managing physical health, reducing stress/anxiety, and improving physical fitness, in that order.
Men are also more likely than women to have purchased something for their fitness, diet, or mental health resolutions.
With resolutions more focused on physical health and fitness, it's not surprising that men are more likely than women to have purchased large in-home fitness equipment, memberships, and smartwatches to support their resolutions.
More focused on diet and mental health, women are more likely than men to have purchased a journal, educational materials like books, or special foods, beverages, or supplements.
While both men and women are motivated to lose weight, their purchasing suggests they approach this through different health modalities. Men are more likely to focus on fitness while women focus on diet.