Whenever I tell anyone I've recently moved from California to Minnesota, they typically respond with a resounding "WHY?" followed by, "Seriously, you moved to Minnesota?" And with a big smile on my face I reply, "Yes I did and I love it!" Minnesota is home to me. I'm originally from this beautiful winter wonderland and I have always loved it. But there's a lot more to Minnesota than just being my home. This frozen tundra is a hidden gem.
Minneapolis is a Great Place to Live
Forbes ranked Minnesota 2nd in its Quality of Life measurement due to its high education levels, healthy population, and having a plethora of recreational activities available year-round. But beyond the Forbes's ranking, this is a remarkable place. The lakes and the landscape are absolutely gorgeous, particularly when the seasons change from winter to spring and summer to fall. It's almost magical.
The new Murphy Research office is in the heart of downtown Minneapolis, the state's economic hub. Minneapolis is quite the dichotomy. It's a cosmopolitan city in every sense of the word, yet it has a familiar, friendly vibe typically reserved for one's hometown. The people here only add to its charm with their warmth and friendliness. Minneapolis has always been known for its progressive music scene, its appreciation for the arts and culture, as well as having a genuine interest in activism and socially-conscious culture. And much to my delight, the food scene has recently elevated, as Minneapolis has been become a springboard for up-and-coming chefs.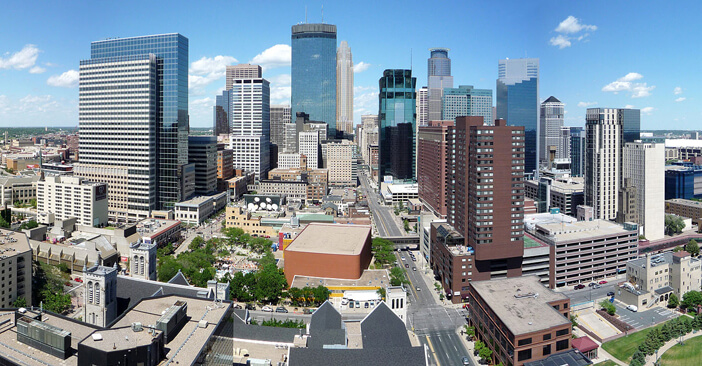 Amazing Opportunities
Minnesota also has a very strong economy. It is home to several Fortune 500 companies including Target, General Mills, Best Buy, 3M, U.S. Bancorp, and Ecolab, just to name a few. Forbes also ranked Minnesota 5th in Economic Climate; the economy here is one of the healthiest in the nation, and unemployment is well below the national average.
Impressive Talent Pool
Minneapolis is undergoing a revival and there is a sense of excitement in the air. The area of downtown known as The North Loop is a bustling neighborhood with many new restaurants, businesses, lofts, and apartments that were once run-down warehouses. The city is filled with smart and ambitious people whom embody an entrepreneurial spirit. A growing pool of tech workers is contributing to this revival, making Minneapolis an emerging tech hub. This revitalization is also attracting Millennials, so much so that Minneapolis has one of the highest concentrations of Millennials. These young adults are flocking to Minneapolis because of the opportunities, quality of life, and affordable housing options.
Yes, it is one of the coldest places on Earth and yes, the winters can be brutal. But this is my home, and I can't wait to roll up my sleeves and build the Minneapolis office using the pillars that are core to everything we do. I will use Creative Design, Rigorous Execution, Enduring Insights, and our Murphy Research Quality-first Culture to bring this new office to life, and maybe even rival our Santa Monica office.