The lean approach to startups, innovation and product development is all the rage – and for good reason. There are many benefits to the lean approach, including quicker time to market, reduced development costs, more innovative
products and improved customer relationships. However, companies outside the web/digital space can struggle executing on some of the principles of lean development, and even technology companies need a clear vision and
strategy, along with processes for collecting and analyzing feedback, to embrace lean principles. Market research can bridge those gaps!
What is "lean"?
First, let's go over the lean approach to startups and product development as introduced by author Eric Ries in the book, The Lean Startup. The core
idea is that companies should not spend too much time and money developing a "perfect" product that may or may not succeed in the marketplace. Instead, organizations should quickly introduce a "minimum viable
product" (MVP) to the market, measure how customers respond, and then learn whether to change course or continue buildout in the same direction. In short, lean organizations pursue a continuous cycle of market experiments
by following the stages of BUILD-MEASURE-LEARN.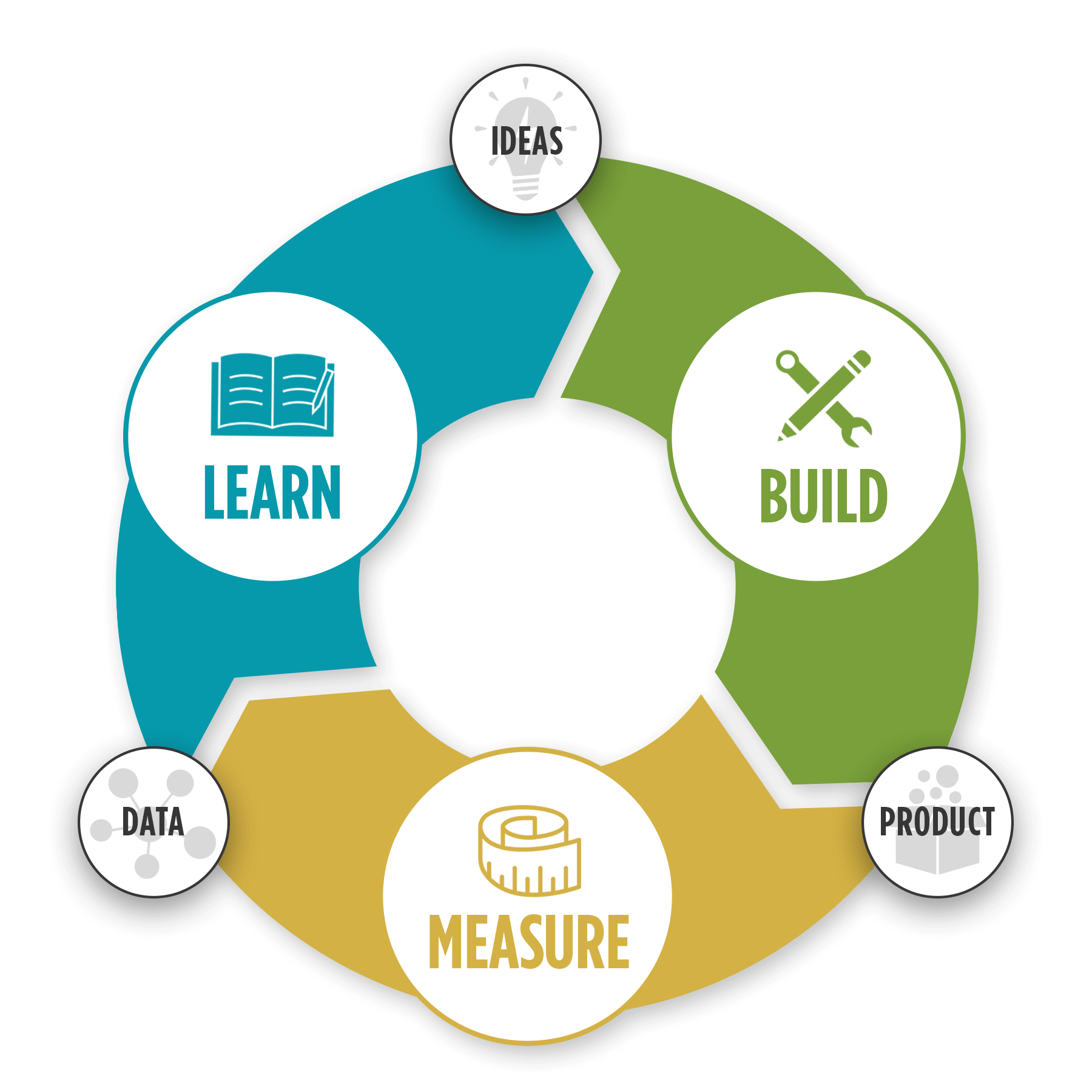 Some organizations have taken this approach to mean that there is no room for traditional market research;
they think they can get all the information they need from gathering data internally and relying on casual customer feedback. While digital and web-based businesses certainly have access to more data about shoppers and
potential customers than ever before, there are important insights that can't be gleaned from click or purchase data alone. In addition, many firms don't have the capacity or expertise to manage the feedback process
or analyze and interpret the data that's collected. Moreover, companies selling physical products, especially those with high development costs, don't always have the luxury of building multiple versions of products
and getting those in front of customers to see what works.
So, where does market research fit within the lean product development process? The answer is: everywhere! There is a place for smart, targeted research in all three stages. Let's take a look.
Build
Before building anything – even an MVP, organizations need a vision and strategy. The lean method has these at its foundation, since they are used to determine the scope of the product offering and priority of experiments.
No matter what approach a team takes to launching a product, it is essential to know that there is a long-term, viable market for the new product and that there are ways for the company to maintain a competitive advantage
in an ever-changing landscape.
Market research options that aid with strategy formation include:
Market sizing – know the size of the potential market and buying power of various segments.
Customer needs analysis – validate that the target customer(s) actually have a significant problem worth solving or desire worth fulfilling.
Competitor analysis – understand landscape to develop/adjust a unique value proposition that ensures product, pricing and messaging will stand out among the competition.
White space identification – see the gaps between customer needs and competitor's offerings and assess which of these "white spaces" hold the most opportunity.
Rapid concept testing – narrow down possible product features or marketing messages to start market testing in real time, ensuring options meet customer needs and adhere to strategy.
Measure
Many organizations get distracted by focusing on vanity metrics like hitting a sales target or getting featured
on a TV show, and they use those "accomplishments" to validate their direction. To truly learn and improve, though, startups and developers should focus on the metrics that enable them to gain insights and take
action to improve the product and messaging. Using a rigorous market research discipline (while focusing on quick results) can ensure that the focus stays on the right metrics and the results are unbiased.
Whether you're an early-stage company without a large customer base or an established company looking to get to the next level, key methods of measuring success in the marketplace include:
A/B (or multivariate) tests – test multiple product features, pricing models, messages and more by showing multiple customer groups different options and measuring results to determine the optimal combination.
Funnel analysis – track shopper behavior along every step of their purchase journey to calculate conversion rates, identify purchase obstacles and find opportunities for better engagement.
Brand tracking – get a quick take on how your early adopters perceive your brand and product offering; pair results with other proprietary data from sales, web analytics and social media performance to
get the full picture. Track results over time as the product/brand gains traction.
Customer engagement/ satisfaction studies – get a deeper understanding of what customers love and what leaves them wanting more; start with a simple Net Promoter Score and add follow-up questions to learn
more.
Learn
Learning is the most important element of the lean approach. In fact, Eric Ries argues that the entire purpose of a startup is not to make money or launch a game-changing product, but to learn how to create an ongoing, successful
business. It's one thing to be able track results against objectives and metrics, but it's essential to understand what those results mean and adjust your build-out plans or messaging accordingly.
Here are just a few ways organizations can ensure they are learning during the development cycle:
Customer interviews – many organizations struggle acquiring, organizing, analyzing and acting on customer feedback in a beneficial way. Often, a single comment from an important customer can cause a company
to change direction. Formal customer surveys and in-depth interviews (IDIs) can ensure that the focus is on trends that have impact across many customer segments and point to a path of growth for the company.
Root cause analysis – to resolve problems or understand issues, ask "why" multiple times (the recommendation is five times, specifically). This method can be used to understand consumer behavior, motivations and purchase intent, as well. Well-crafted customer surveys and IDIs can be used to
uncover the root cause of issues and benefits uncovered in funnel analysis and KPI/metrics tracking.
Segmentation – develop archetypes and personas that reflect what you know about your customers. The "personalization" of your key customers will guide marketers and engineers alike as they rollout
new plans and features.
Continuous Cycle
Lean startup management and product development relies on a continuous series of experiments to validate, product features, marketing plans and the path of the company. Sometimes savvy product engineers with a connection to
customers can gather a lot of important information on their own. However, most companies can benefit greatly from using more traditional market research to test concepts, confirm opportunities and validate ideas without
taking up a lot of time or money. The result is a stronger product offering that lines up with the company's strategy and customer needs.
Regardless of who does the research, startups and lean organizations should always keep a few things in mind to build a lasting product portfolio:
Strategy first: Throwing a bunch of ideas to the market can be a waste of time; focus your research on a core idea or product.
Collaborate with existing customers: Get honest feedback through real conversations.
Keep an open mind: include non-traditional respondents in market surveys and ask some unexpected questions to uncover new opportunities.
Ensure unbiased questions and analysis
Incorporate proprietary data from sales, marketing and web analytics into any broader research.
Click here for more information about the services offered by Murphy Research that can help innovative and growing businesses – no
matter what your stage.