Everyone knows what it's like to feel stressed at work. Whether it's an upcoming deadline or that big meeting, stress can have major effects if not managed properly. Symptoms of work-related stress can manifest in different ways, but there are ways to manage your stress so that you can be more productive and stress-free.
Putting Yourself First
Before trying to manage your stress, it is very important that you identify the symptoms that are brought on by your stress. After you figure that out, you need to try to take care of yourself first. Putting you first means tending to your physical and emotional needs, be it taking a 5 minute yoga break, or walking around the block. When you feel as though you are being taken care of, you are more resilient to stress. Making small, positive changes throughout your day can really affect your overall mood, therefore making your stressors more manageable.
Get Enough Sleep and Eat Right
Anxiety and stress can cause a lack of sleep, but not having enough sleep can cause you to become more stressed. Having an adequate amount of sleep can help you to maintain an emotional balance. In addition to sleep, your body needs the right kinds of foods to keep it going. Not eating enough can cause you to feel irritable, but eating too much can make you feel tired. The key is to eat healthy snacks throughout the day to keep your blood sugar, energy, and attention span at a good level.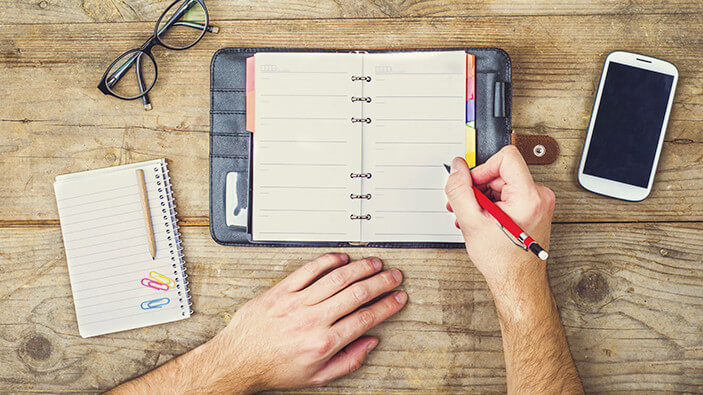 Using a Planner to your Advantage
Having a schedule may seem tedious at times, but it can actually help manage your stress in some major ways. By using a planner, deadlines and upcoming meetings can be laid out ahead of time, so there are fewer surprises. Prioritizing tasks to tackle the most important ones first and breaking large projects into smaller, more manageable steps can really help. It may seem silly, but actually scheduling five-minute breaks throughout your day can help with stress relief as well. Use those five minutes to take a walk, reflect on your day, or do some breathing exercises to lessen anxiety.
Ask For Help
Remember that you don't have to tackle all projects by yourself, delegating tasks to coworkers and identifying that help is needed can be a big stress relief. Let a coworker know that a big project is starting to stress you out and ask if they can take part of the load to help you out. You can also communicate to your manager that you are under a lot of stress and ask if someone can help you on a project rather than trying to do it all yourself. If someone is willing to help you out, why not let them?
It's important to manage stress at work, for both your physical health, and also to be at the peak of your mental game at work. Next time you're stressed, keep these tips in mind and remember to take care of yourself!