LeBron James making his move to LA has been one of the most talked-about decisions in the sports world. His four-year, $154 million contract ($38,500,000 a year) will make him the highest paid NBA player ever. 1 There's a new legend in town, but one thing that really separates King James from former Lakers greats is the heavy economic opportunity he has brought to each of the cities in which he's played. The study of this has been dubbed "LeConomics," and big brands and local establishments alike need to understand the impact of this economic force.
LeBron is an interesting case study because he's spent seven years playing professionally in Cleveland, four years in Miami, and another three years back in Cleveland. Studies show that he has had quite a positive impact on the number of restaurants and other establishments near his home arenas. According to a working study by Shoag and Veuge, LeBron's presence has increased the number of restaurants and bars within a mile of his team's arena by 13% and boosted employment in those places by 23.5%. The effect disappears beyond a seven-mile radius from his home arenas.
The year before LeBron was drafted to Cleveland, the Cavaliers were last in average home court attendance, while four years later they were in the top three. When he was in Miami, the Heat were in the top five for attendance. Upon returning to Cleveland, the Cavs reached the number two spot. 3 There is already speculation that Los Angeles will see an increase, too, especially when it comes to ticket prices. Last season, the Lakers were 10th in attendance — but ticket demand in LA has skyrocketed with LeBron's announced move; the price of the cheapest home opener tickets available through resellers has already seen an 800% increase over last year. 4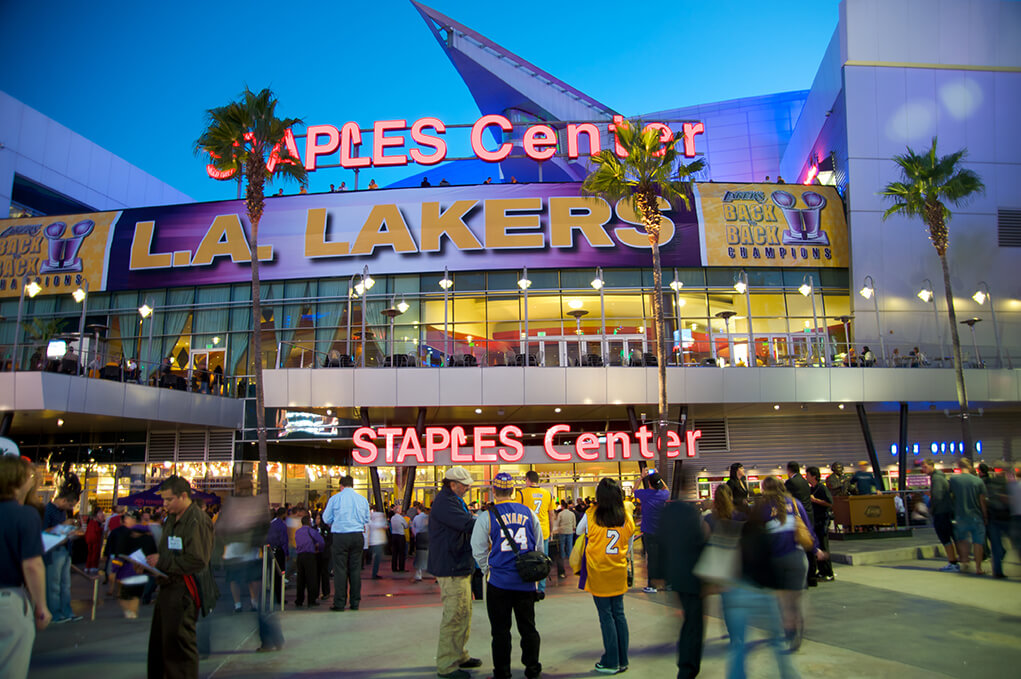 Though LeBron's impact was felt in both Cleveland and Miami, the magnitude was much higher in his home state of Ohio, due to his strong history there. The connections he is establishing in Los Angeles may set him up to have just as strong of an impact here. In addition to already appearing in several TV shows and movies, including a starring role in the reboot of Space Jam, LeBron also has his own production company, "Spring Hill Entertainment," and a digital media firm called "Uninterrupted" already in place. He was also one of the first investors in Blaze Pizza, which is based in Southern California. By committing himself to the city before the NBA season has even begun and setting himself up for a post-NBA career likely based in LA, LeBron is showing that the scale of his impact could come close to or surpass what it was in Cleveland.
In Cleveland, LeBron had a visible impact on sales and employment in food, entertainment, and apparel — which are all in the top seven categories of spending by Americans. One can't help but think that in LA, a city known for these industries and with about ten times the population of Cleveland, this impact will be magnified. For example, if only 5% of LA residents buy a new Lakers jersey, that would result in an estimated $14 million in sales. 5 In all, FormSwift estimates that LeBron will bring in 2,989 new jobs to LA and have a five-year local economic impact that will amount to $396,985,680. 6
A thriving LeBron economy, whether it impacts just the immediate area surrounding Staples Center or extends to greater Los Angeles and beyond, can only trigger new market research needs for LA-based companies. With a new celebrity in town to drive an increase in apparel sales, the number of food and beverage establishments, and other ventures, companies will be incentivized to either launch new products or improve their existing services to maximize sales.
---
1 Tom Huddleston Jr, CNBC, Link to source
2 Daniel Shoag and Stan Veuge, "Taking My Talents to South Beach (And Back)." (May 5, 2017). HKS Working Paper No. RWP17-019. Link to source
3 Alec Banks, Highsnobiety, Link to source
4 Cody Benjamin, CBS Sports, Link to source
5 Alec Banks, Highsnobiety, Link to source
6 Sarah Gray, Fortune, Link to source