I've now attended two automotive summits since switching out of the consumer goods corporate researcher world…. Being from a small town in Nebraska, I learned to drive a manual out on an icy dirt road in the middle of winter. This early experience being around cars, tractors and trucks has continued into my adulthood and my appreciation for a good vehicle.
Recently I attended ThinkLA's "Motor City West" seminar and I have learned when attending all of these conferences that no matter what industry you are in, from retail to apparel to consumer goods to auto, there are common themes that continue to resonate within the marketing realm:
It's all about the consumer experience
Make it personal to create engagement
Embrace storytelling to immerse the consumer with your brand
Now, let me dive deeper into the ThinkLA "Motor City West" conference…
High Hopes For The Future Of The Automotive Industry
To kick off the day, we had Ed Loh, Editor in Chief at Motor Trend and Mark Rechtin, Executive Editor at Motor Trend, to cover the State of the Automotive Industry.
Did you know that Motor Trend is the largest media platform out there?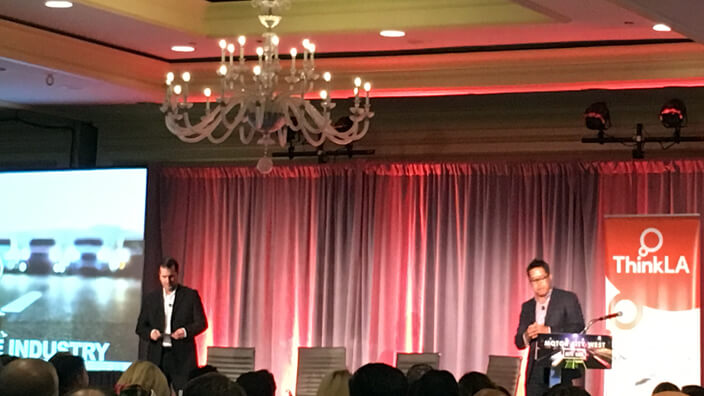 The team went through what it takes for a vehicle to land as a Motor Trend vehicle of the year. What an exhaustive process! They discussed what trends they are seeing for the upcoming 2017 season:
There are really no lemons out there anymore. They drove each of the test vehicles on average over 300 miles.
Performance is big among certain brands. Take a look at the new Jaguar XE; it's completely overhauled and may redefine the sport sedan. Or the Hyundai Genesis. There is tons of content for consumers to choose from such as the multi-view camera or the pedestrian detection system.
Wide breadth of ability. The team discussed different transpeeds as well as the new hydrogen fuel cell technology.
Depth of ability in what consumers can get. This makes it a challenge for dealers and automakers to communicate effectively to consumers who have a short attention span.
Mark then took the audience through what warning signs are out there in terms of upcoming trends in the marketplace:
European models are taking market share from U.S. automakers and garnering anywhere from 13-16% share.
Rise of preference for SUV's. Mid-size sedans have shifted from 2nd to 4th place in preference.
The return of pre-recession tactics. Estimated sub-prime default rate is hovering at around 9% and dealers are offering longer loans.
Leasing will affect the used car availability in the future
Next up, the duo discussed how there are opportunities for brands and agencies to connect with consumers.  The 1st opportunity is with navigation systems: Consumers' smartphones are better at navigating than in auto units. Brand teams also need to better utilize social media to communicate more effectively with consumers;  this is where they live so market in that same space with the right content. Plus, with new features like Facebook and Twitter live, these platforms allow brands to interact with consumers in real-time.
In closing, there are no bad cars out there and with advanced technological options, brands need to understand how to effectively communicate with their consumers to capture market share.
How Brands Can Zoom Zoom Like Mazda
Our keynote speaker of the day was Eric Watson, Director of Marketing at Mazda, covering what the future consumer journey looks like for the automotive industry.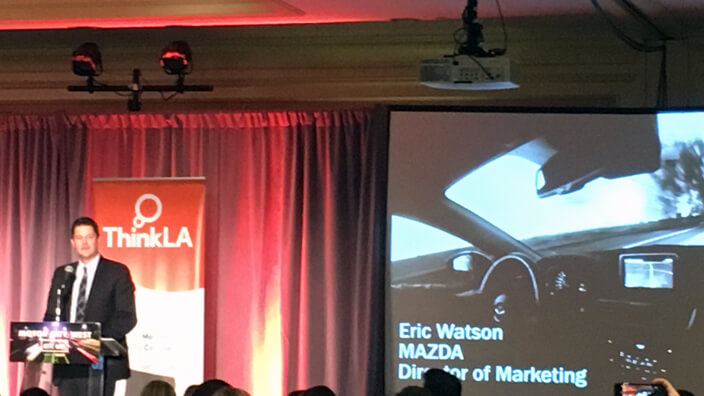 What is the challenge facing brand marketers?
"How do we stitch all the ideas together along the consumers journey?"
"How can our partners have a great understanding of the future of the client/company?"
Eric set up the conversation by sharing with the audience a brief history of Mazda, the strong history for innovation and "celebrate the joy from driving".  I definitely wanted to be in one of those cars in the videos he showcased!
So what can brands do to put a smile on the consumers face? He stated it's not defined by a demographic but looking at the psychographics, traits such as lifestyle, attitudes and interests. Mazda is moving from the traditional marketing world to one that involves this switch to behavioral tactics to connect with consumers emotionally.
This is typically called a consumer-centric approach and is helping Mazda redefine its' consumer engagement story utilizing modern day tools like BlueKai for targeting.
Once again like Motor Trend discussed about industry trends, Mazda is developing content to put where the consumer lives; not only on their website but a 360-approach including native and organic content.
One other tip Eric shared with the audience was the need for including storytelling along the consumer journey; this concept allowed for the Mazda brand content to be amplified and created experiences for their customers.
He then demonstrated this approach with their Ice Academy experience which you can watch here.
So how can automotive brands connect with their consumers recommended by the Mazda team:
Engage with your consumer further upstream
Redefine your media channels
Develop grass roots efforts that line up with your brand
Now what can agencies and other partners do to help out their brand partners?
They can start thinking bigger and beyond just one campaign…. And they can embrace data using it to supplement other metrics and eliminating media spend waste!
Thanks Eric, I want to take part in the Mazda Ice Academy vroom vroom
Resurgence Of A Brand That Was Ahead Of Its Time
The rest of the afternoon included panel discussions around closing the sale and share out of an innovative consumer program, followed by a revitalization of an old brand and insights into AI.
With my own personal passion around rejuvenation of old brands, I will cover how Karma (formerly called Fiska) a defunct car company has made a resurgence with an innovative marketing and communications approach to driving consumer demand.
Bernard Campbell, Creative Director at Karma Automotive took us through a brief history of Karma including the financial collapse and battery issues. Now fast forward to 2016 and the challenge at hand – selling a 6-figure car with the technology that consumers don't necessarily understand.
So where did they start especially when it is a product that is very emotional and personal?
First, he discussed how they "limited the number of cooks in the kitchen", it's only him and Tom who make up the marketing team.
Next, the vehicle can't look like every other vehicle out there because wouldn't they just buy the other guys?
How do you market a car that is part of an exclusive club, so that you can hear the voice of the person and connect with them?
And then finally, how do you create marketing around the stories and how it is a piece of art vs not so much a car.
How did Karma do this?
They created ads for The Robb Report that were different than competitors by only featuring a sculpture to signify the future car.
Follow up ads then focused on a rendering of the potential future vehicle
Finally, within 30 days to market, the company created its first spread and photographs of the vehicle; this included a video that told a story of the piece of art it is wrapped in a California flag.
They understood and accepted who their target consumer was going to be and gained support from investors and executives on attainable sales targets
Final Thoughts
My final thoughts on this year's Auto West from ThinkLA is that the auto industry has similar pain points as the consumer goods industry. Many of the same topics are being discussed at CPG and shopper conferences that were discussed at this summit.
If brands can get outside their comfort zone, rethink their media spend, go to where their consumers live and reframe their agency partnerships, marketers can:
drive consumer engagement
solve for pain points
and increase loyalty for their brands while optimizing their media spend.
Stay tuned for more market research tips coming in the following weeks!