In a recent post from our continuing series coverage from the Media Insights & Engagement Conference, we talked about leveraging fan passion in college sports. Today we continue to talk about sports teams and how they're using data to build championship teams.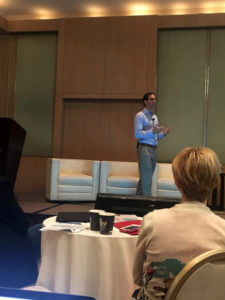 On Day 2 of this Conference, one of the Keynote sessions featured Paul DePodesta, formerly of the Oakland A's and now with the Cleveland Browns. Even though we were scheduled to have the Oakland A's Billy Beane, I was still excited to have the Jonah Hill character from the Moneyball movie, on stage in real life to discuss with us how they changed the game of baseball.
Baseball was in a crisis in the 90s and when Paul came on board at the Oakland A's, there was a problem with the operating system. It was clear that management was asking all the wrong questions, so Paul questioned how the mindset of baseball could fit into a "winning decisions" matrix?
"If you are only allowed to shop at 7/11, do you have the will to try something different?"
The Past Isn't Going To Win Games
To figure out best practices, the executive team had to be the ones in charge, utilizing insights from other industries on how they deal with human capital. Then they had to remain open-minded and understand why there needed to be a change in the way things had been done for decades. With other teams like the Yankees with deep wallets, the Oakland A's were inspired to also make changes.  By focusing on the diversity of players and those who did something above average rather than focusing on weaknesses, the A's were able to pull together a team from a data-driven approach.
Beyond the above, what else was going to convince management to change?
Here are the four elements to think about when building a championship team:
Become aware of psychological biases
Be relentless
In a game of uncertainty, how can you beat the house?
And most important, cheer for the Browns!
Sometimes there aren't any causal relationships and you need to accept the psychological biases, and admit that it is an emotional decision and can influence how we approach data.
Then there is the affirmation biases which reinforces what we believe; we see what we want to see and we also describe how we want it to be.
The focus needs to be on the most recent experiences to mitigate biases.
How The Oakland A's Used New Metrics To Rebuild Their Team
By using data to rebuild the foundation in a different way, Paul discussed how the data gave them a sense of direction. When using new metrics in the system, they were able to identify and bring on lower paid, yet highly skilled players.
They also realized how stats may not always tell the truth.  Sometimes the data exposed situations and falsehoods.  So when you are knee-deep buried in big data, take a step back and rethink your approach.
Final Takeaways
As market researchers, the outlier data is typically thrown out, but by utilizing that type of outlier data in baseball, the Oakland A's were able to transform how to spend their dollars to build a championship team. Sometimes you need to take another look at what the data is saying and it might give you that a-ha insight you've been looking for.