You think you can watch it all?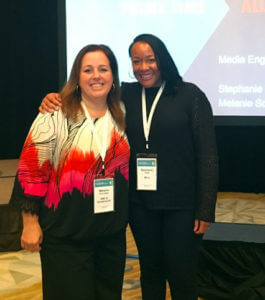 From our coverage of this year's Media Insights & Engagement Conference, Melanie Schneider from AMC & Sundance TV and her co- presenter Stephanie Yates from WE TV discussed their viewpoints on how we have turned into a "primetime all of the time" audience and demonstrated that the phrase "TV is Dead" is not actually true.
Everyone has to accept that you can't watch it all
Everyone in media is saying "TV is Dead" and it's no wonder with data showing declines of -8% in the 2014-2015 seasons. However, if you peel back the layers of TV viewership in the past 5 years, viewing is actually down -33% and even cable TV viewing is experiencing declines of -12%. The presenters even shared with the audience Q3 Statista audience viewership numbers from the State of the Traditional TV report, indicating that most demographics are experiencing declines across the board.
So what has happened in the past 5 years that has caused this decline?
With an explosion of content from networks producing and creating more scripted original content, viewing habits have been forever altered.  As an example, Melanie reviewed the profile of a TV watcher and her viewing habits throughout the day including her unique viewing patterns, the way she views her programs as well as when she watches her shows in a time shift manner.
Did you know that there is 25% more linear content than 5 years ago with over 1,100 new original programs in the past year alone?
What metrics should we look at to uncover better insights on viewership? Even though prime-time hours are declining, when you dig deeper and look at the actual prime-time viewing metrics, you have to ask the following questions:
How do we monitor? Are the profiles between prime-time and all-the-time viewers different from one another?
How do you promote to "prime-time and all-the-time audiences?"
Does social media activity manner?
Does digital viewing follow the same pattern as TV viewing?
Once you dig deeper into the data, one area of growth that did not decline are TALK SHOWS! One key takeaway from this insight is that you don't know what metrics mean without the context behind the measurement and that small data can turn into big insights.
So why is Prime-time Dying?
Content is growing while TV viewership is down, but it's how we are watching TV through technology. Viewers are curating their content and time-shifting when they watch their shows. Below you can see an example of top behaviors of OTT vs Non-OTT and then an example of two very different shows' psychographics: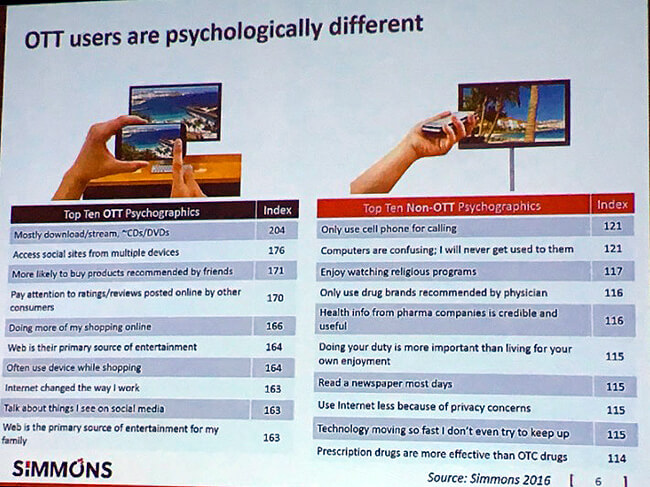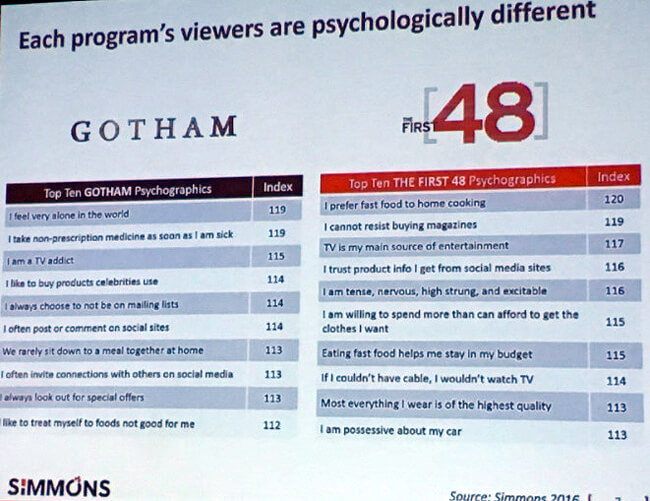 Creating Deeper Engagement with Viewers
Stephanie and Melanie discussed tips for brands and media to create a deeper engagement with viewers:
Ensure that you have comprehensive video measurement across all connected devices AND linear TV
Tie audience attributes such as psychographics, purchase intent and demographics to uncover meaningful insights
Report on metrics such as ratings, reach and comparison indices to bring to life a 360 view
Make data actionable by understanding what platforms you are pulling audiences from
Final Takeaways
In order to get a true picture of your ROI, brands need to capture not only traditional viewing habits but also multi-platform behavior or you might miss a big insight into your audience.