This year's ThinkLA Automotive Breakfast was a sold-out crowd again held at the Beverly Hilton. This time, the hotel was prepared for the hundreds of attendees making their way into the event, however, due to my last minute ticket purchase, I was put in the nose bleed section of the ballroom. (Tip for next time, purchase your ticket earlier than a week out!).
The agenda was full of a variety of industry experts, technology providers and publishers. The speakers covered topics ranging from
Geo-locational analytics.
How branded content is playing a part in the marketing process for automakers.
Consumer trends for vehicles.
What the future looks like.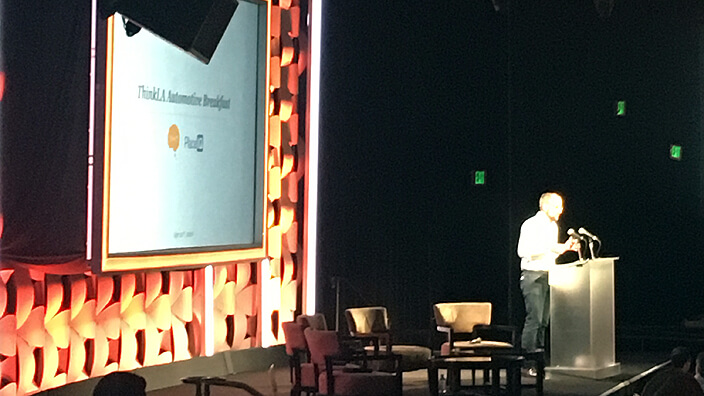 How Geo-Locational Research is aiding automakers along the consumer journey
Drew from PlaceIQ was the first speaker up with a topic that I am fascinated with as a researcher: Geo-Locational Research and Measurement.  After many attempts in the past, this has finally come to fruition. I was part of the Prism Initiative at Nielsen during the infancy of this technology and now because of advancements in smartphones and GPS locators, reality is now scaleable and usable from a marketers perspective.
Drew asked the audience the following:
What can we use this intelligence for?
How do you match out of home with your media?
How do you leverage the many data points?
Because we know where consumers are going, they can pin that information back to the house, incorporate 3rd party data and voila, you have advanced geo-locational metrics such as Place Visit Rate. The key for marketers is to think of these data points as "ingredients to build" upon.
Drew gave a poignant example centered around the VW announcement of the recent recall of 550K diesel vehicles. With locational data, VW was able to look at record sales levels the month prior to the recall. Once the announcement occurred, there was a spike in dealership visits which were tied back to servicing for the recall. These insights are the type that can be uncovered utilizing geo-locational research along the auto buyer's journey.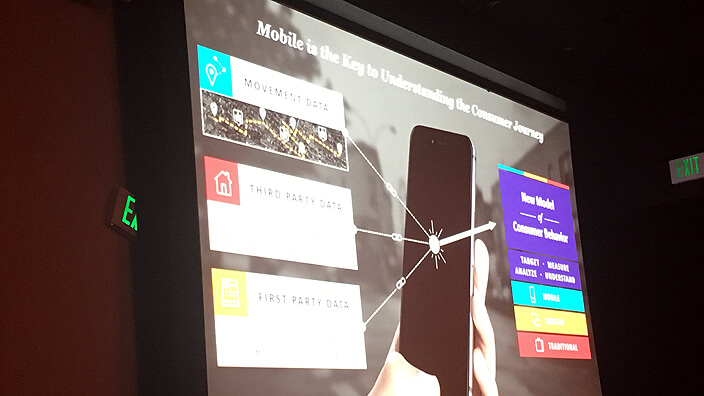 It's A Cross-Over Palooza!
Next up was Aaron Robinson from Car & Driver magazine, focusing on trends in the auto industry. As a recent purchaser of a Hyundai Santa Fe Sport, I could closely relate to this topic as I was overwhelmed with the choices out there today. Aaron discussed how there is brand proliferation going on in the industry, noting that some auto manufacturers have up to 23 different model nameplates! Toyota has 23, Nissan has 19 and Mercedes has 18.  This equates to multiple engineers needed to support each of these nameplates as well as the networks need to support each model.  All of this makes it extremely difficult for potential auto buyers to cut through all this noise. I know I was one of those consumers who was very overwhelmed by the choices out there!
One of the biggest trends that Aaron dove into was around the world of cross-overs. Nowadays there are more 1 children households and 1 car owning households than ever before – making a cross-over an optimal choice for families. In addition, there are many more luxury car buyers especially in China where these cross-overs are considered a status symbol among the population. Cross-overs fit every wallet and because of this auto manufacturers are doing lots of experimentation.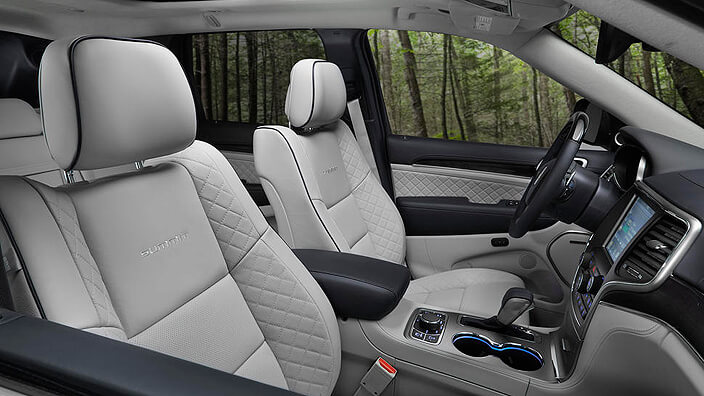 Aaron pointed out the Jeep Grand Cherokee and how it is considered "urban chic". Because of the growth of cross-overs, this has taken a chunk of sales from other segments such as mini-vans and compact cars. But this is not so true for smaller vehicles…. It's not about the price but all about the amenities, either luxury or tech-savvy for today's consumers.
Auto buyers today are not willing to sacrifice on the amenities when purchasing a smaller car; Aaron shared with us his experience with the new 2017 Hyundai Elantra and also discussed how Subaru is leading the pack with technology such as "Eyesight", technology that gives the driver an extra set of eyes on the road aiding in crash prevention. These amenities were once reserved for high-end luxury vehicles but like other advances in technology have trickled down to the masses.
In closing, Aaron discussed how turbo and electricity trends are morphing the auto industry. He spoke briefly about the European market where electric vehicles are capturing market share from the diesel market. While Porsche and Ferrari are going turbo-charged!
Practical VS. Emotional In The Car Buying Process…
The final speaker for the event was Rick Wainschel, VP of Client Insights at Cox Automotive, which publishes both Kelly Blue Book and Auto Trader to name a few.  His topic was very relatable for me as a recent car buyer and the behaviors I experienced when selecting my new car. He discussed how consumers make both practical and emotional decisions during the car buying process.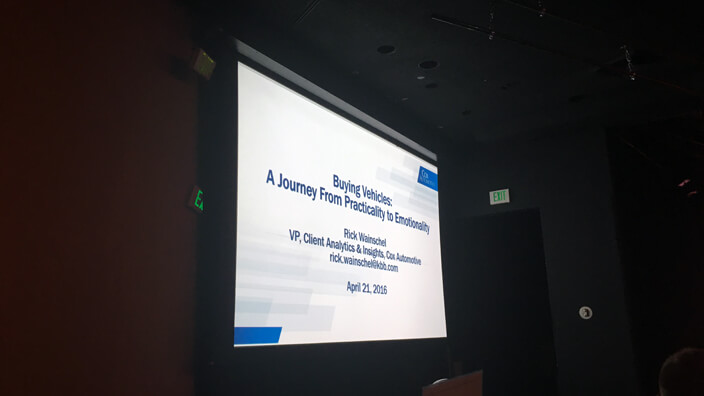 Practical factors in the buying process are factors like durability and safety, while emotional factors are those such as driving performance and exterior styling. Subaru has cracked the code on how to engage the buyers on both a practical and emotional level, but it has taken them years to convert this into a loyal following. By revamping marketing campaigns, making messaging more relevant and leveraging emotional ties in their media, Subaru has emerged from a below average ranking in 2007 to leading the pack in 2016.
Rick left us with some parting thoughts on how auto manufacturers can leverage both practical and emotional factors in the development of their marketing campaigns.
Practical factors are a cost to entry while the emotional factors are the decision makers in the auto buying process.
Brands who can figure out the formula for combining both these factors in their marketing efforts will have the most advantage over their competitors.
And finally, this is a very difficult process and marketers must understand it can not happen overnight. It takes time, the resources and consistency to shift consumers minds during this buying process.
The New Path Of Branded Content For Automakers
Typically, panel discussion are on the less than exciting side of events but this one was quite different than the many panel discussions I have witnessed. I believe it was partly the panelists involved but also the highly relevant topic of branded content. The panel consisted of Brad Audet from Garage Team Mazda, who hosted as the moderator, Jason Beckerman from Unified, Jaime Cabrero from Advantage, Phil Hruska from Honda and Sean Williams from BuzzFeed.
The takeaways from this panel included:
Branded content is the norm today, however, consumers are inundated with so many pieces during their day that now marketers are having a difficult time cutting through all the clutter.  (Among marketers there are many hallway discussions around branded content and the desire to become better storytellers to capture consumers attention.)
Phil from Honda provided us with the future of branded content from Honda but in the form of a music platform. They are getting the biggest rising artists from all over to participate in their Uncharted web series and concerts.
Jaime from Advantage took us on a journey of the Grill Iron concept with Hyundai which is a full blown tailgating experience with insane chefs at some of the top college football venues.
Finally, Sean from BuzzFeed brought us into the world of multicultural content and a partnership with Toyota. Toyota developed branded content that could speak to more than one specific market through a recipe swapping couples cooking show. This type of content is taking a combination of not only the emotional aspect that comes with cooking a family recipe but also tackles cultural differences through learning about others' cultural differences via food. It was geared to be a more natural feeling, using real couples so that it could be more authentic.
The key questions that brand marketers need to ask themselves include:
Am I looking at the newest technology to uncover key insights along the consumers path to purchase?
What can we use geo-locational intelligence for and how can I integrate my 3rd party data?
What am I thinking about when developing strategies for multicultural audiences?
And finally, how do practical and emotional factors play a part in the buying process?
Thanks to ThinkLA for another great event with highly relevant topics for marketers today.