Last week was the annual Corporate Researchers Conference, held this year in San Francisco, where we were able to enjoy the late summer heat wave surge during breaks in the conference.
This was my 1st ever Corporate Researchers Conference and walked away with many of the insights around goals that were published on the MRA CRC website. These goals were submitted by attendees so that the organizers could ensure that corporate researchers would have added value for attending this two day conference.
The top goals that corporate researchers were looking to take away learnings at the conference:
How to benchmark practices against cutting-edge research tools and techniques
Network within an intimate and right-size environment with like-minded corporate researchers so that they can brainstorm around fresh approaches and tools
Learn from leaders in the industry in terms of agile and real-time research
Hear from other research professionals how they overcome challenges within an organization
And finally, how to develop ideas, evangelize research and create scaleable research across an organization
What was great about this conference is that there were no paid speakers and no sales pitches which allowed me and other attendees to relax, listen and absorb from the 70+ speakers at this years event.
Now, let's hear from the speakers…
How Corportations Need To Be Sustainable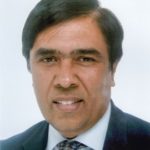 First keynote session of the day was brought to us by BV Pradeep, Global Vice President – Consumer & Market Insight – Market Clusters at Unilever with his topic centered on what the future looks like for research.
He stated that "Corporations are at a crossroads" and that they need to understand how to be sustainable "in a world with limited resources." There are four global macro forces in play:
Slow shift East & South
Living differently
Environment under stress
Digital revolution
As we all know, the exponential rate of change into a connected world is on the same magnitude as when revolutions have occurred in the past. The term VUCA world was then elaborated on with reference to a Harvard Business Review article. I was not privy to utilizing this term when discussing foresights and went out to read more via this recommended published article, "What VUCA really means for you".
So how does living in a volatile, uncertain, complex and ambiguous (VUCA) world mean? And how does it affect researchers?
The connected world is driving these radical changes from IoT's, social visuals, mobile everywhere, programmatic buying to AI, big data and content curation. Researchers will need to understand the following to sustain the research function into the future:
Speed is a must in certain cases
Showcasing evidence of success is paramount
How to drive action with research
He then referenced the new Quirks Corporate Researchers Report and how researchers are being asked to do more with less.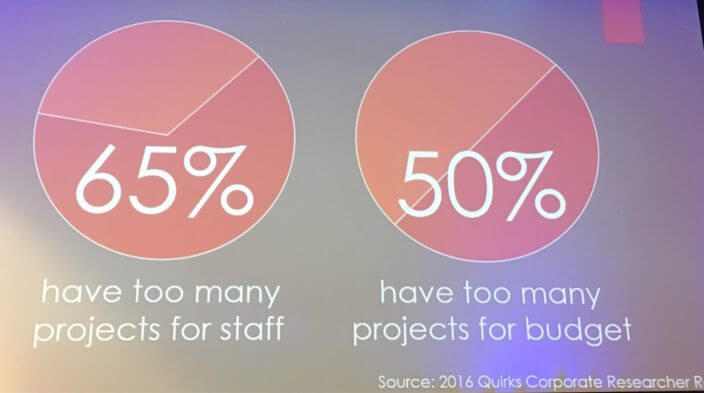 In order to develop critical behaviors for researchers to succeed in the future, BV Pradeep shared with the audience these critical behaviors:
Go from supporting to LEADING BY VISION
Go BEYOND INSIGHTS, inspire and provoke
Understand the DESTINATION, you might be able to get there faster and with a higher ROI
Ask yourself "WHAT'S THE WORTH OF THIS?"
Begin to move towards PASSIVE TECHNIQUES: Do vs Think & Feel, Ask vs Observe
MINE visual content
Go from reactive to real-time actions
Move from Data Isolation to DATA INTEGRATION
What do you want the future to look like for your corporate's research function? Do you want to be an active part in forging into the future? How can you provide the right ROI to be able to drive and sustain the research function for years to come?
How The Marketing Economy Is Changing To Be More Consumer And Experience Centered
Next up was Caroline Smiley, Project Manager – Customer Research & Insights at Delta Airlines and Catherine Rickwood of MESH The Experience Agency to discuss how the marketing economy is changing to being more consumer and experienced centered.
Recently Delta Airlines determined that there was a need for a Chief Experience Officer, thus evolving the CMO function to include consumer experiences. As explained by Caroline, this meant new metrics were needed to gauge the new consumer economy. So the "share of experience" metric was incorporated at Delta which allowed the team to measure consumer experiences across the many touchpoints involved in booking travel with Delta Airlines.
Why did Delta move to this SOE metric vs SOV? There is actually a stronger correlation between SOE and Market Share than Share of Voice. This metric also changes the perspective during conversations regarding consumer experiences, SOV doesn't look at retailer or 3rd party ads or peer observations or usage experiences. All of these drive brand consideration, the presenters noted, but these same metrics aren't included in SOV metrics.
What did this mean for Delta?
"Why rather than How focus" for the team at Delta and allowed for the development of monthly trackers, predicting preferences and the ability to incorporate into marketing mix models.
How is Delta using these new experience metrics?
The team is shifting preference scoring to quantify owned vs earned and have found that a positive experience is 3x's more powerful than a neutral experience. They have began to map these experiences and with the recent computer outage they were able to quickly isolate the negative experiences and address them much quicker than before.
In addition, their messaging mixture is in real-time and can optimize, target and push out different messages dependent on the customer experience.
Through this experience metric, Delta researchers were able to clearly understand that there was a stronger correlation with experiences, diagnose ROI, maximize paid media as well as track and optimize messaging with immediate impact to the business.
Why should corporate researchers look further into utilizing SOE metrics?
Stronger relation to sales
Broken down by element
Includes consumer sentiment
Predicts brand conversion
And keeps the consumer front and center
Do you think you are going insane as a researcher? Well, Steve Seiferheld from Swedish Match was there to tell us how to not become insane with useful tips and tricks from his years of research experience.
Are you faced with "the same problems with the same solutions?" such as lengthy surveys, professional panel respondents, dependency on NPS and are afraid to say no?
So how do you work around? What's the disconnect? And how can you not go insane during the process?
Steve went on to discuss with the audience on how researchers and the industry needs to OWN their function and get everyone out of the market research rut.
So what is NOT owning the function? I know in my past roles, I may have been stuck in the rut and have fallen victim to a few of the below.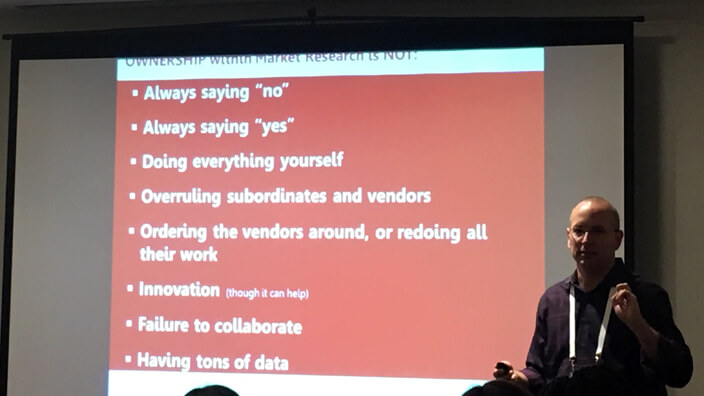 Now what IS taking OWNERSHIP of the function?
The first step is to change the mindset that we don't have internal clients but colleagues and business partners.
Next, Steve provided us with a few tips listed on the slide below: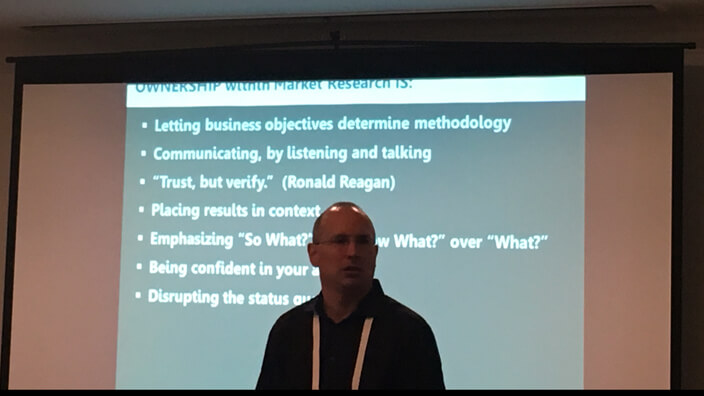 With this inspiration presentation from Steve, I felt more empowered to be able to aid my clients in owning the research function at their company. I wish I had some of these tips when I was in the function on the corporate researcher side of the industry.
Thanks Steve for sharing your tips on how not to become INSANE!
How Neuroscience Can Drive Exemplary Leadership And Foster Change Within An Organization
For the 2nd breakfast keynote session, we had the privilege of hearing about a topic I am very passionate about and that is Neuroscience. Baba Shiv, Professor of Marketing from the prestigious Stanford Graduate School of Business, took the audience through his views on how neuroscience can drive exemplary leadership and foster change within an organization.
Think of how and when you make key decisions during the day?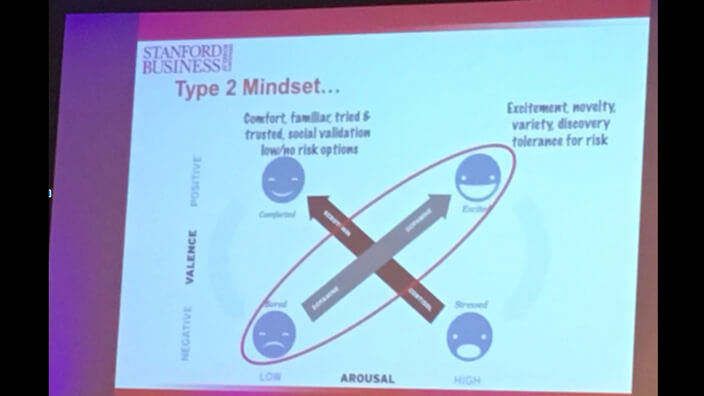 Mr. Shiv took us on a journey through Type 1 & Type 2 mindset, and for those who have read Daniel Kahneman's book "Thinking Fast and Slow", is the launching point for uncovering your mindset.
He asked the audience "why should we care about the emotional brain and neuroscience?" Well, he made an excellent point about how we might think we are being rational but our emotional brain is actually going to make the decision.
If you look at the slide from his presentation, which best describes your mindset when making decisions?
Are you risk averse or lean towards discovery and a tolerance to risk?
Is there a fear towards making mistakes and failure is not tolerated?
Or are you more about the FOMO on an opportunity and failure is sometimes embraced?
Plus you also have to take into consideration other factors that may play a part when making your decision?
Age
Time of Day
Factors that affect your cortisol levels
However, one key notation is that if the brain isn't stable it can switch from a Type 1 mindset to a Type 2 mindset! In addition if the brain is under stress, the 1st instinct will be to play it safe.
So what can we take away from his presentation?
Take into consideration what your mindset is.
How does your mood affect your decision process?
When other factors like sleep are compromised, how does your mindset switch?
How To Maximize Your Research Investments
Next up during the Day 2 session break outs was Matt Walker from Cox Automotive to give us tips on how to maximize your research investments.
What can other researchers do to maximize their research budget?
Get buy-in early by key collaborators and business partners; hold an internal brainstorming session (food bribing works in capturing high attendance!)
Demonstrate actionability and leadership, "make it real" for others by using live examples
Utilize tools to summarize your work like videos or simulators
Finally, socialize within the organization
I would love to share all speakers thoughts and ideas from this conference, however, time would not allow in this format, so what did I learn during the two day #CRC2016 event?
Review the agenda early and determine which events make sense to attend. It can be overwhelming with so many amazing speakers!
Understand your mindset and acknowledge how it can affect your decision making process
Understand what tips will work within your organization to drive leadership and empowerment for the function
Open your thinking to include the customer experience and how you can measure it
Look for me at upcoming market research events such as ThinkLA Motor City West, TMRE, and Big Data Summit!