Last week, I attended Innovation Enterprise's Brand Strategy Innovation Summit, held within walking distance of Universal Studios. #BrandStrat16 key focus was on how brands can stand out from all the noise out there while establishing trust and leveraging their loyal consumers.  The conference also provided thought starters on how to be continuously innovating.
First up to kick off this summit, I heard a few key nuggets churned out that nicely sum up the overarching theme of the two days:
"People are brands too!"
"Be Human"
"Social media needs an upgrade"
"Speak the language of the culture you are in"
Now let's dig into the first session of the day…
Kenny Mitchell, Sr Director of Customer Engagement for the iconic brand Gatorade asked that question to all the brand teams and agencies in the audience. Gatorade just reached its' 50th anniversary and with that, the company tasked itself with answering this very question.
The iconic brand has shifted in recent years to become a brand that innovates for the future athlete in mind with two goals in mind:
1. Product innovation journey and 2. Storytelling
Kenny's job is to clear the path for creative thinking that allows for this innovation to happen.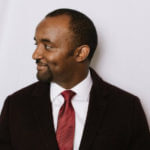 He stated that brands need to have patience to forge into this path. After the 2010 G series launched, the team realized that they had to admit the launch failed, but it opened up an aperture to Fail & Fail Fast.
In order to forge ahead past this launch and become a fuel brand rather than just a sports drink, Gatorade needed to establish beach heads in other categories, focus innovation on new forms, new ingredients and showcase products that don't yet exist in their messaging.
Next Kenny highlighted how storytelling is the hallmark of the brand and there are two thoughts brands can take away in developing your own storytelling.
Drive inspiration through your brand equity
Include seamless storytelling for product work that involves driving trial & short term sales within the retail environment
His philosophy on storytelling is taken from the CASE approach and I am sure going to use this for my next presentation!
What does CASE stand for?
Creative
Authentic
Strategy
Emotional
When developing your content philosophy, take this approach but he also stresses that you need to incorporate different tactics from minimal to breakthrough for your content.
He shared content examples from March Madness (minimal) to breakthrough storytelling (Serena Williams). My personal favorite is the Serena Williams video content as it is an inspiring way to tell a compelling story, follows the CASE approach and I'm a huge Serena fan as well as competitive tennis player.
3 key points he stressed about digital strategies & priorities center on developing unconventional content, commerce and leveraging technology such as shopping cart data to uncover ROI.
As he wrapped up his presentation, he left with a very inspiring philosophy of how he tries to act as the point guard for the team and makes sure that everyone on the team knows the gameplan. Who is your point guard?
Next up on the agenda was Swan Sit, VP Global Digital at Elizabeth Arden to share with us on how a 100-year old brand can revitalize the brand and bring relevance to a younger generation. As a Gen X'er, I knew Elizabeth Arden for Red Door and frequented the spa while living in NYC. But in recent years like many others, we would use their products but not pay much attention. Well, this brand now has my attention through it's new and fresh approach to digital marketing.
Swan took the audience through a 360 degree approach that Elizabeth Arden is now gathering around.
What are some thoughts that brands can take to their desk to revitalize their online presence and measure effectiveness?
Think past the desk– content creation may come from a creative agency different than your traditional marketing agency
Leverage a mix of media
Understand your content and your platform. By understanding the consumer funnel, you can leverage different types of content across different platforms
Add in metrics to understand your ROI and ability to measure effectiveness
Embrace agency partnerships and be open to enlisting digital only agencies
The groundbreaking conversation that took place during this session was around the development of "The desk of Liz Arden"
By creating something unique to celebrate this iconic brand, including mixing the new and old Elizabeth Arden has introduced this brand to a new generation and expanded beyond just the counter.
How did Elizabeth Arden get there?
The team engaged in a variety of activities such as:
Conducting internal global studies
Utilizing 3rd party trend reports
Developing targeting with their agency partners
Incorporating a panel of Arden advisors and influencers
By deploying a 360 approach including not only social media but ecommerce and digital marketing, it is truly inspiring a new way of storytelling for this 100 year old trend setting brand.
Through this new campaign, the team was able to create a hybrid approach that allowed for a transition to a younger cohort without alienating their loyal customer base. More about the launch here: Dispatches from the Desk of Elizabeth Arden.
What is the one point that brands can learn from Elizabeth Arden?
You can't switch overnight and like the previous presentation from Gatorade, be patient with the changes.
We then had a panel lineup to discuss aligning brand strategy with corporate strategy moderated by Flavia Barbat, Editor-in-Chief of Branding Magazine. Panelists included:
Kevin Peck, VP Brand Strategy & Management from AT&T Services,
Negar Mohammadi, Director, Brand Marketing at Vogue
Ariana Hellebuyck, Leader, Brand Marketing, NerdWallet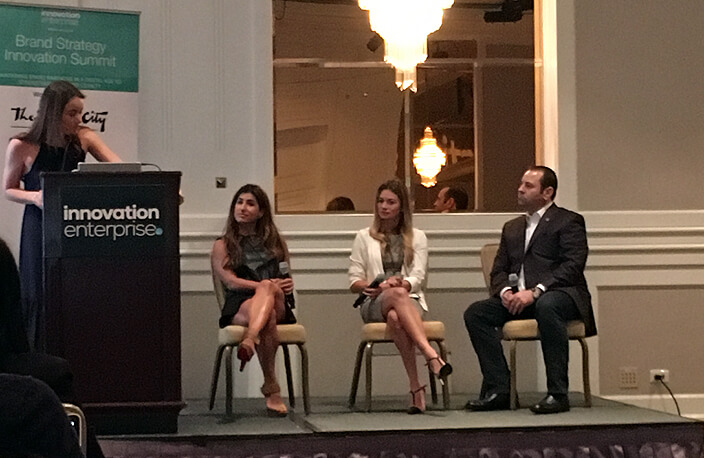 The overarching theme is that alignment needs to start at the top. Leadership must be brought in that values change, is honest and understands the impact to the business. Here are a couple of quotes from the panelists that best sums up the panel discussion.
Kevin Peck from AT&T: "Alignment starts from the top and is a 30K feet process, change has to be valued and there is a need measure the progress" in addition "everyone needs to speak the language that the business understands and understands the impact and benefits of aligning strategies"

Negar Mohammadi from Vogue: "By defining your audience and mapping your strategies to your target, it helps the organization ignore the fads & trends that may show up in data"

Arianna Hellebuyck from NerdWallet: "By utilizing employee engagement surveys to understand the progress in aligning brand and corporate strategies, this will allow for early adoption on the engagement process"
Now I was one of the fortunate attendees who was able to participate in the Second City Storytelling clinic. Even though I love to give presentations or just wing it, this clinic took many of us out of our comfort zone to be able to address what many hear from management so often "No, but" or the perennial "No, and". The team guided us through a series of exercises to highlight how we can match up our actions with our intentions as well as understanding word choice in our storytelling.
What did I learn?
Move from thought to action
It's alright to not be right
Reset your default mechanism
Open to possibility by listening differently and changing your language
Check out this video to see the Second City Works Storytelling process in action:
I was able to then pop into Michael Fanuele, CCO at General Mills session and his "Inspiration Imperative" presentation.
He based his presentation on "WWBD?" which was one of the most creative demonstrations of how to integrate pop culture, creativity and storytelling skills at a conference.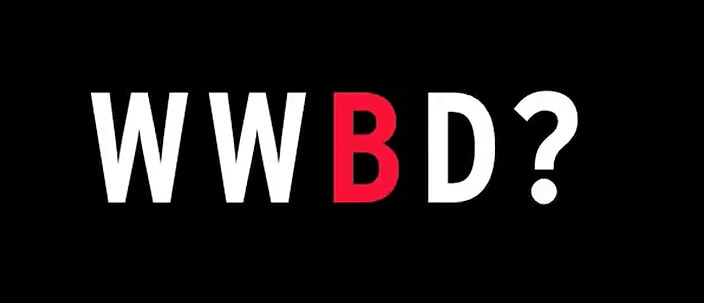 So what does WWBD stand for? He shared with the room his story of how he has turned into a superfan of sorts for Bono and U2.
Then Michael asks the crowd "What Would Bono Do?" when it comes to inspiration.
So how can brands inspire like Bono has inspired him?
Ambition- think HUGE
Action – make people DANCE, use verbs in your communication efforts
Authenticity- ok we hear this word all the time but you have to "own your truth" about your brand
In addition, think about what attracts you to other brands? Are you attracted to brands like you are attracted to your friends?
Want to check out Michael in action, here is an old presentation I found on YouTube: What Would Bono Do?
Now, tips from an influencer, a social media director and an insights fashionista.
There was a change in plan and Callan Green, Social Media Director at L'Oreal brought to her presentation two other presenters to share with the audience what is in the Future for Social Media.
In addition to Callan, the panel consisted of Jessica Blumenthal from Who, What, Wear and Carly Cristman, blogger and influencer.
What tips do the panelists have to stay ahead of social media trends?
Callan Green: "Create your social media for the platform it will live on"

"Know what's coming next and look where you can win"

"Utilize your In-House creative team that knows your brand to develop the best content"

Jessica Blumenthal: "Identify ways to engage consumers without linking them back to your website such as Instagram and Snapchat"

"Mine comments, you might find inspiration and insights from your own posts"

Carly Cristman "Be aware of the grey areas when posting organic content"
Final takeaway from the panel is that not everything on social media needs to be polished and perfect, rely on consumer feedback and understand what platforms you are working within.
Time to switch gears back to aligning brand and corporate strategies to drive successful execution. Mark Blankenship, EVP Corporate Strategy Officer at Jack in the Box/Qdoba took us through the brand voyage the company has been engaging in.
Throughout this journey some issues were identified within the corporation that prevented the brand from pushing forward.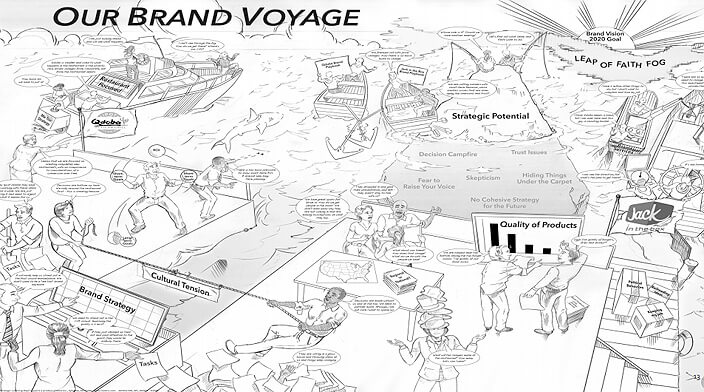 My favorite quote from Mark was "Conversations in our head get in the way sometimes" and sometimes those conversations "prevent productive conversations and alignment" within the organization.
In order to move brands forward, here are a few tips that Mark shared with the attendees:
Allow yourself to be vulnerable
Ensure that there is alignment from Top to Bottom
Install performance metrics
For Jack in the Box to move forward, they installed the ACE people equity program. Through this program they were able to identify that higher rated ACE Stores performed better with lower turnover and HIGHER PROFITS. In addition, these stores had lower guest dissatisfaction and more resolution when guest problems occurred.
By identifying an area within the organization that needed executive alignment, Mark and the team were able to find a critical moment for the organization, develop a strategy and execute at the store level driving sales, profits and satisfaction.
Curious as to hear what a non-profit organization has to say about omni-channel, I ducked in to hear how Teach for America is utilizing an omni-channel approach to increase customer engagement.
Tom Marcinowski, Managing Director, Email Marketing at Teach for America, led us on a journey of how they are utilizing data, delivering consistent storytelling and listening to their customers.
The challenge with omni-channel is it is easy to become overloaded with streams of data and caught in the weeds. Tom was able to give us a few tips he has learned along the way:
Clean up your data- must prioritize this as well know junk data in junk data out
Learn how to listen
Are you curating conversations from your customers?
Are you utilizing signals or interactions that you uncover?
Listen to where customers are interacting with your brand.
The final session of the summit was centered around how brands are creating the best user experience by innovating across multi-platform ecosystems. Mat Szwajkos, Director of Content Strategy at Expedia took us along the journey of the highly valuable scratchpad that we find on Expedia today.
The scratchpad came about through finding a hole in their hypothesis – something was missing in the hotel search process. They discovered that:
the experience was not personalized and not allowing for customers to customize their search experience.
the real unmet need was the inability to capture the note taking process that many travelers go through.
Mat called it the "hockey stick of awareness"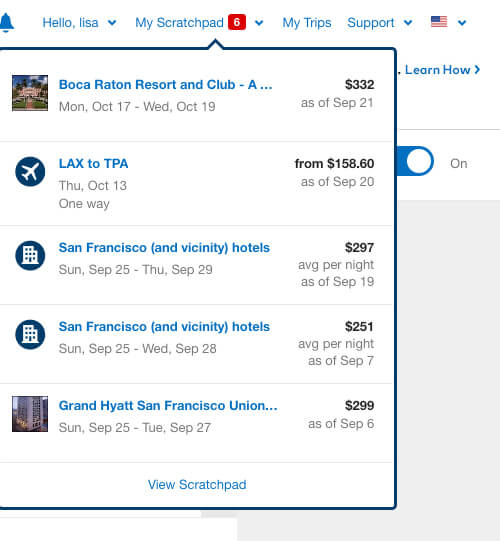 By identifying this "a-ha" moment, there were key learnings that Expedia acknowledged:
The consumer would need to be re-educated on how to interact with the site
Organizational behaviors would need to be morphed into a test & learn environment with leadership in alignment
But also, it opened up a question that the organization would need to solve for- not only offer hotel recommendations but also how can you aid a consumer in curating alternate housing solutions. Keep your eye-peeled for new innovation from Expedia!
This summit was well worth the two days as I was able to work on my own storytelling capabilities, hear the latest in trends from digital experts as well as learn from brand leaders on how to gain internal alignment to forge brands ahead.
Remember to ask yourself…
Are you listening to your customers on platforms where they live?
How are you aligning your brand and corporate strategies-from the top or pushing from the bottom?
Are you moving from thought to ACTION?