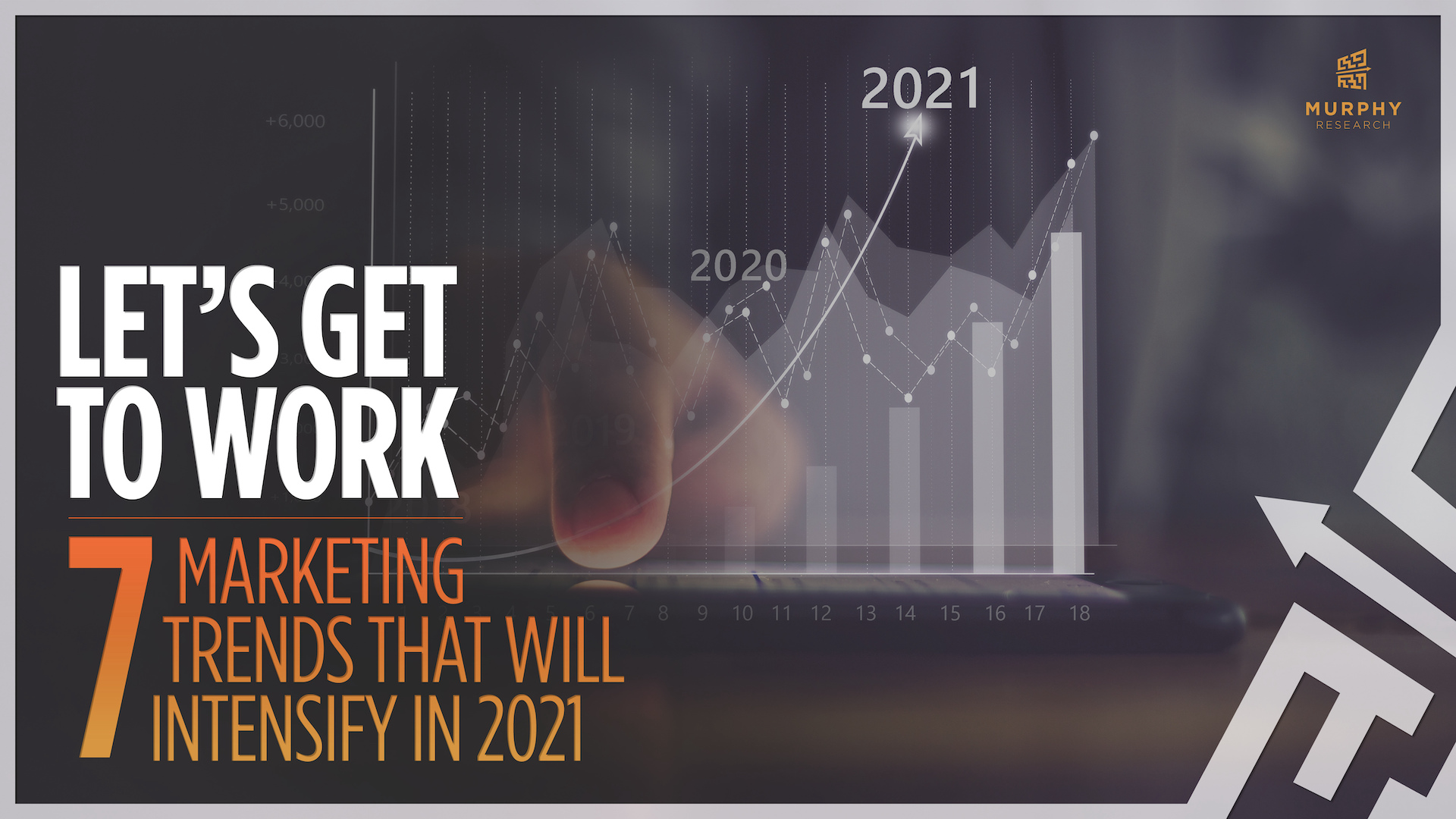 Let's Get to Work: 7 Marketing Trends That Will Intensify in 2021
Despite having a pretty low bar for success, the start of 2021 has somehow managed to limbo under our expectations. Nevertheless, we believe that 2021 is poised to gain momentum, and we are optimistic that it will end on a more positive note than it began. With that spirit in mind, we put our heads together and compiled a list of research trends to watch in the next 12 months. Many of these are silver linings born out of the chaos of 2020, and they signal that the voice of the consumer is still loud, clear, and ready to converse with brands who are willing to listen. We are looking forward to what 2021 will ultimately bring and are excited to hear from you if you think we missed a trend. Happy New Year!
Ready to accelerate: Covid accelerated many evolving consumer behaviors, and companies that had the insights to harness those trends emerged superior. To be prepared for future shifts in the consumer landscape, brands will look to build efficient and agile platforms to gain rapid, tactical insights. These insights will drive product development and launches, iterative changes to offerings, and short term innovation pipelines. These efforts will complement foundational research, but will focus on ways to quickly take the pulse of consumers.
All the time, not point in time: Longitudinal research approaches will gain further appeal as marketers continue to leverage holistic data sets that provide ongoing access to consumer attitudes and behaviors during changing social, health, and political environments. The value of an on-going versus a point-in-time conversation will continue to pay dividends that will be further amplified by data sets which look at consumers as whole beings versus within isolated categories.
Mission goes mainstream: Metrics quantifying mission-driven behaviors will become a cornerstone of brand equity tracking. As younger consumers come into their buying power, their willingness to pay for brands with a definable and relevant mission will invite brands into a deeper conversation about the ROI of being a mission-driven brand. Defining, quantifying, and tracking brand engagement in this area will become integral to improving brand equity as consumers continue to look to corporations to lead in this area.
Digital ethnographies are here to stay: The explosion of amazing digital ethnography tools as well as the comfort people have with more intimate recording and sharing of their lives has created a perfect environment for Digital Ethnographies. While this was certainly happening pre-COVID, many researchers opted to try Digital Ethnographies in lieu of more traditional methods during COVID, and they likely won't be going back after seeing how amazing these studies can be for capturing genuine interactions. We expect these studies to continue to be more prominent in the coming years.
Reflect, Research, Revise: Leading brands will take time to reflect on what happened in 2020, refocusing marketing and research efforts on foundational consumer behaviors to understand what needs their brands are best positioned to meet. Thoughtful brands will emerge with a better blueprint for meeting evolving consumer needs by Q3 2021, with a long term innovation pipeline that capitalizes on lessons learned during the pandemic.
Storytelling continues to evolve: We say this every year, and every year we are correct! Storytelling continues to evolve and change at a torrid pace. Emotional resonance is on the rise, which is related to the mission and digital ethnography themes above.
Community is the new equity. Smart brands are building communities from the start, and focusing on building engagement between the community, their employees, and themselves. The power of these communities is manifesting itself in more loyalty, lower acquisition costs, and more efficient communication channels. We expect this trend to really accelerate in the coming years.