Murphy Research's Design Team had the pleasure of attending a really cool seminar on Infographics in Downtown LA recently! It was held at a place called TypeEd, which hosts a variety of classes, workshops, and seminars on Typography. The instructor, Abby Guido, is the found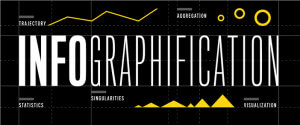 er and creative director of Abby Ryan Design and is currently pursuing her MBA at the Fox School of Business, Temple University. She is also an Assistant Professor of Graphic and Interactive Design at Tyler School of Art, Temple University where she teaches graphic design, typography, and infographics courses. The class was 3 hours long and was conducted lecture-style with a few demonstrations where Abby showed her creative process step-by-step. We viewed some beautiful infographics and talked about what made them great, and also some not-so-hot ones and figured out what went wrong. It was really nice to get a refresher on what's trending right now in the design world and how to stay on the cutting edge.
I definitely learned some time saving shortcuts from Abby's demonstration in Illustrator, as well as overarching themes to keep in mind when designing an infographic. Here are a few take-aways that I got from her talk.
1) One theme that resonated with me was how to effectively establish a "system" when designing a stand-alone infographic. What this means is from the very beginning, when you say, "Ok, the headers are going to look like this, the subheaders are going to look like this, the body copy is going to look like this," it makes executing the information so much easier. Once you set up your style sheets, you can simply paste in the text and it will be automatically formatted to fit the rest of your design. She also stressed the importance of setting up a grid at the very beginning stages of your design process. A useful tip she suggested to get better at designing was to take a really cool infographic that you love and start to dissect it by figuring out where its grid lines are. When you break it down and work backwards, it helps you understand the designer's process and why they made certain design decisions.

2) One of my favorite parts of the evening was when Abby showed us a project she gave to one of her classes. She gave her students a giant excel file with tens of thousands of data entries and told them to come to their own conclusions as to what story they wanted to tell with the data and then design a full infographic based on the information. The results were stunning, yet SO visually different from one another. It was pretty inspiring to see how many different results came of the exact same data set. It just goes to show that you have the power to be really creative when translating a story with conclusions and insights from a bunch of numbers, and there are infinite possibilities with what you can do creatively.
3) Abby really emphasized the importance of storytelling within the infographic realm. I thought this was especially relevant to Murphy Research because we put a strong emphasis on telling a story when presenting data to our clients.
She pointed out that in some of the bad infographics, the content just ended without a conclusion or takeaway. But in the really good infographics, they have an easy-to-follow flow and specific angle. The end of your infographic is just as important as the hook in the beginning to ensure that your viewer actually gets something out of it.
Overall the seminar was really interesting and gave my manager and I some inspiration on how we can jazz up some of our reports and make sure we're telling the story our research team wants to tell. I'll leave you with a quote from Abby, because I just loved her description:
"Infographics are like the bedroom eyes of the design world: one look, and you know. Not only is this design form sexy, it's powerful. Data visualization can communicate complex ideas faster than most forms of information. Using basic design and typography principles, you can simplify data and design compelling visuals that connect with readers in an instant."