The Los Angeles chapter of the American Marketing Association recently hosted a "Marketing to Millennials" conference held at General Assembly in downtown Santa Monica.
The panel featured a wide range of experts chatting about the most buzzed about demographic – Millennials, and how brands can market to them. Panelists included Andrew Freston, Category Director at Vice; Kayvan Mott, CCO at Infinite Communication; and Audrey Wu, Director at Imperson.  Ryan Williams, author and founder of Ryno Labs moderated the panel.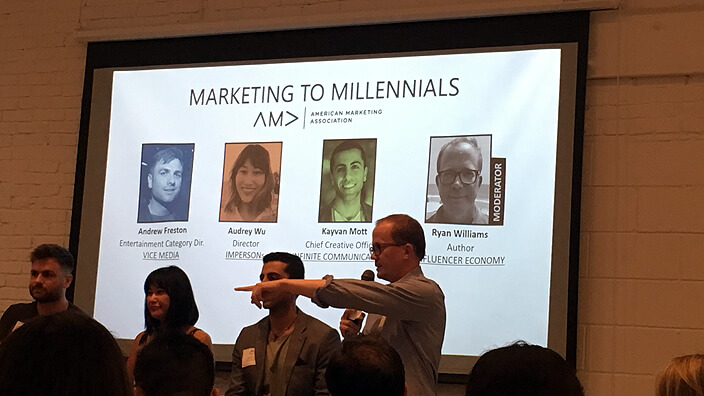 We all know that Millennials are a coveted demographic in any brand's playbook and the panelists took us through a flowing discussion covering topics including:
How to target this demographic
What experience millennials are seeking
What influencers exist
The panel was dynamic and fluid. I walked away from this conversation with three key points that will help brands create more effective marketing to millennials:
1. Uncover how Millennials are truly using your product.
Andrew Freston from Vice brought up an excellent point during the panel discussion: "Do brands know how Millennials are actually using their products?" Brands may have one vision of how the end-use of a product may be, however, there may be alternate ways of using a product. For example, the camera on your smartphone is being used not only for photography but also for other tasks such as putting on lipstick, zooming in on text or a reminder for a future need.
2. Find your audience.
Go where Millennials live.  Audrey Wu from Imperson stressed how imperative this is to the success of marketing to millennials.  She pointed out how brands need to uncover where their audiences live online and go there, understand the mechanics of that app or website and what is the voice of that audience.
3. Ensure your branded content is available across multiple platforms.
"Think like a media company to find your brand voice" states Andrew, "this will allow brands to utilize existing branded content and morph across platforms".  Kayvan Mott of Infinite Communications went a little further to discuss how engagement across platforms with millennials will differ based on how they are empowered to share and which platform they are on. Ask yourself as a brand marketer, did you empower that audience to share your branded content? Good content travels fast among this cohort. Millennials are always onto the next thing so make it easy on whichever platform that they are on to share, like and interact with your brand.
To round out the night's discussion, the panelists highlighted some key points marketers need to think about in terms of the future of marketing to this influential demographic:
Experiences, intimacy and personalization are key with this age group
Look out for new forms of communication such as direct messaging and live feeds
Contribute to the conversation in a meaningful way
Be a part of the communication thread
And finally, research is key to understanding this user base
To learn more about this valuable target audience and how to effectively target them through native advertising, check out an article I wrote last year on this topic: How to Reach Millennial Moms.